42 Small, Nice Things to Do For an Overwhelmed Partner
It's the little things that matter.
by Fatherly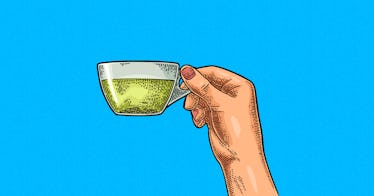 It's the little things that make a difference. They always do, but they're particularly important now, as the coronavirus pandemic looms, we're more or less housebound, and levels of anxiety, fear, and grief cause more burdens. In short, it's easy to feel overwhelmed and, if you sense your husband or wife might be feeling a bit more stressed than normal because of the kids and well, everything, noticing that and making some small, thoughtful gestures can go a long way. Things like giving them the time and space to take a Zoom fitness class, getting the kids out of the house for a few hours, ordering from that takeout place they love, or simply listening to them and validating their emotions. So, to offer some assistance, here are 43 small, nice things to do for a partner who's feeling overwhelmed. This pandemic isn't going anywhere. Doing what we can to help our loved ones, well, feel loved and appreciated will help us all get through it.
41 Small Nice Things to Do For An Overwhelmed Partner
Take the kids to the park for two hours. And don't sit on your phone for those two hours: Ride bikes, kick the ball, play games — the goal is to tire them out.
Give them a solid block of time during the day when they can make calls, uninterrupted, and you deal with the kids. And by dealing with them, you keep them quiet and occupied and tend to their needs.
Create space to let them get their 'me-time' — is it exercising? a nap on a Saturday? Sleeping in? Meditation? — and don't make a big deal out of it.
Get wine and lug it home. Do laundry. All the laundry. Dry it. Fold it. Iron it if needed. Put it away. And do it without telling them.
Fix that thing that's adding minor annoyances to their day. Are Internet dead zones around the house making their Zoom or Facetime calls all the more frustrating? Fix it. Does the front door sound like a cackling spirit every time it shuts? Fix it.
Take turns making dinner. If you already do so, great. If not, start now. And by doing dinner, we mean cleaning up afterwards, too.
Instead of asking how you can help, offer to help with a specific thing you have noticed they're struggling with.
Pour coffee for them on busy mornings.
Don't take longer in the bathroom than you need to.
Tell them you believe in them. Just remind them how strong they are
Give them a hug every day. Don't forget it.
Rub their shoulders. Or their feet. Or their hands. Actually, whatever they need rubbed, rub it.
Protect their space from intrusions when they need to focus on something.
Plot out an after-dinner walk. Even if the destination is the Old Oak Tree, it's getting away.
Take something small off their plate — a chore, a bill — without telling them first. Just do it.
Sneak out of bed in the morning. Tidy up while they rest.
Appreciate them professionally by paying attention to how they work — and how they work well.
Don't try to make them rationalize why they're overwhelmed. just let them be stressed, complain, and say 'that sucks.'
When it's happy hour, ask them what they want to drink. Make them that drink
Ask them if they want to watch their favorite show. Especially the one that you don't like all that much.
Validate their emotions. Don't say that they're "freaking out over nothing." Whatever it is, it's important to them. Listen. Understand.
Draw them a bath. Fill it with the nice smelling bath bomb and fancy soap. Yeah, that one. Light some candles. Give them however long to be in it.
Figure out their love language — and then speak it. Even if you think that love languages are stupid and wrong, it will help you think about how best to communicate your affection. Does your partner tend to give you gifts? Or compliments? Do they seem particularly moved by affection? Think about it, then do it, even and especially if it feels awkward.
Let. Them. Sleep. Do whatever needs to be done to make that happen.
Is a family outing you suggested adding more stress to their world? Cancel it. Schedule something else. There's a lot going on right now and more to plan means more to think about.
Listen actively. That is, ask them a question, let them speak without interruption, and ask questions to help them say more. Listen again. Only offer guidance if they ask for it. Otherwise, just listen.
Do they need you to just leave them alone for a half hour? Sometimes, this can feel rude. It doesn't matter. They need it. Give it to them.
Sing them a song. If that feels too weird, sing it and record it and send them the recording when you're not around. If that still feels too weird, send them a song with meaningful words at an unexpected time.
Order food from their favorite take-out spot, even if it's a spot that you hate.
If your kid is old enough, teach them to sing your partner's favorite song/draw their portrait/say a favorite movie line/do a dance/etc. and then surprise them with it.
Text them to say you're thinking of them. Text them a compliment. Text them something whose sole purpose is just affection, at a time when they're not expecting it. Even if you're just in the other room.
Say sorry — an actual sorry, where you mention specific failings, not a half-assed one — for something you fucked up that you never said sorry for. It's never too late. They haven't forgotten.
Do whatever sex thing they like that you don't. Prioritize their pleasure.
Better yet, tell them that they are always so good at giving you what you need in bed and that, tonight, it's all about them. A compliment and a complete night of pleasure? Smooth.
This one sounds really weird, but it's surprisingly nice: Read to them in bed.
Order from or go to their favorite coffee place/lunch place/cupcake place, order what they normally order, and bring it home to them. We're all grieving the routines we once had.
Is the state of the world adding to their state of mind? Suggest some house rules around phone usage. Set them together. Follow them together. Help one another when it's hard.
Speaking of phone usage, restrict your own. Do you find yourself spacing out on your phone too much? Reading too much news? Phubbing — aka phone snubbing — your partner? Take measures to hold yourself accountable.
Set up a Zoom call with friends they haven't seen in a while. Call their friends. Make sure everyone can attend. Surprise them with it.
When they're waffling on whether or not they want to take a mental health day, tell them to do it. Back them up.
Do everything you can to make sure they have the time — and space — to do their weekly Zoom workout class without interruption. If you have to, schedule the workout class for them.
Tell them you love them and that you'll get through this together.
This article was originally published on