The Case For Making Lying on Childcare Resumes Illegal
Fluffing up resumes is considered largely, if dishonest. But in some cases, it's far more lethal than that.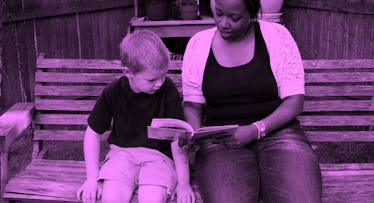 Yoselyn Ortega, a former nanny who worked in Manhattan, was recently convicted of murdering Leo and Lucia Krim, the 2- and 6-year-old children in her care, in 2012. The case that followed was high-profile and distressing — and raised a lot of questions about the industry of childcare itself.
Leo and Lucia's mother, Marina, hired Ortega after she was approached by Yoselyn's sister, Cecilia at a children's dance class. Cecilia recommended Ortega as an experienced nanny. Ortega provided two references before being hired — the first, her nephew's wife, whose children she cared for for only three months, and another relative, Yaquelin Severino, who has no children at all but who gave Ortega a review that suggested she had taken excellent care of her non-existent son, Adrian.
Ortega was hired by the Krims. This type of hiring by personal referral is not uncommon, particularly in metropolitan areas in Manhattan, where nanny services that do extensive reference and background checks cost far more than cash-paid, in-home nannies who are referred by networks of moms and friends.
Ortega worked for the family for more than a year before she killed Leo and Lucia in their home, and tried to kill herself too. Although her legal defense was based on the fact that Ortega claims to have been depressed, hearing voices, and in such a state that she doesn't remember killing the children, there was one piece of the case that the Krims in particular could not forget: Severino lied to them. Ortega's sister, Cecilia, lied, too. They have faced no legal repercussions for their actions. And perhaps they should.
The Krims have now pushed for legislation that would make it illegal for prospective in-home caregivers to lie on their résumés about their experience and references. Representative Steve Otis, from Westchester, New York, has taken up that call. His proposed legislation, referred to as Lulu and Leo's Law, is still in its earliest planning stages. Fatherly spoke to Otis about the limits of his proposed legislation and the particular issues of in-home care.
The legislation that you have proposed is still in its very early stages. Was it inspired by the 2012 tragedy in Manhattan?
The court case itself alerted people to the fact that they have to be careful in scrutinizing people that apply for these positions. It exposed a gap that many parents had not been aware of. Though there are some tools that parents have now. Under the law, currently, parents have the ability to get a criminal background check on prospective caregivers in the home for children. That's a different issue. That's only if somebody has a criminal record.
And Ortega didn't. She also didn't have a history of mental illness in any official capacity, correct? So what does your legislation propose in response to this particular case?
The issue that we're trying to address is the lack of a legal duty on the part of individuals applying to be caregivers — or individuals giving references on the behalf of prospective caregivers — to provide accurate reference and background information.
Parents, in this state, are often faced with trying to assess people that they may bring into their home. They should have an expectation that these people are being forthright in describing their background and their qualifications. The purpose of the legislation that we're working on is to put that into the law.
Are there any proposed legal penalties for being misleading with references, or pretending to be a reference? Would it be a fine? A misdemeanor? A felony?
We're looking for a structure of legislation that is based upon the precedent of other kinds of misrepresentation acts that are already covered in other sections of law. It's an issue that is still under discussion and research, but the idea would be to do something that is generally consistent with how similar kinds of situations are treated in the law now.
So is there going to be a system of enforcement, where parents can verify references, beyond calling them themselves?
No. There are many dimensions to this issue that probably should lead to a broader discussion of other tools that could be made available. This particular piece of legislation that we're discussing today is specifically related to the law as it relates to misrepresentation of people applying to these positions.
So the law is more of a deterrent than an enforcement measure.
That's the focus. The broader issues are important issues. But this legislation is focused on the particular problem of the misrepresentation.
It seems like no matter what, parents will have to take a leap of faith when it comes to hiring an in-home caregiver. Although Ortega lied about her references, there was also no indication that she had mental health issues, on record or not. It seems like a really scary reality for parents.
I agree. To take it one step further, if you're bringing somebody into your home to take care of your kids, there's a heightened sense of wanting to make sure you're getting the right person. Unlike a setting in a school or childcare center where there are other adults around and other types of protections, here, your child is going to be completely alone with somebody. We should make sure that parents get accurate information.
This article was originally published on