7 Self-Help Books For Men That Are Genuinely Helpful
These books actually have something to say.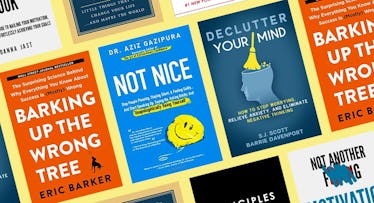 Want to be happier? More chill? Less anxious? Better at work and better at home? Don't we all. But, as you're in the thick of fatherhood, this can be a bit hard to pull off. Or at least it can. One of the simplest ways to sketch out a blueprint for self-improvement is to crack open a book — the right book, that is. Now, we understand: A lot of self-help books can be preachy, stuffy, and, well, unhelpful. Not these books. The seven here are genuinely useful guides to being a little bit more productive, organized, happier, and more successful while providing you with a fresh perspective. They don't ask easy questions or offer easy answers. But they are full of information that can help you be a little bit better. Take a look.
Barking Up the Wrong Tree: The Surprising Science Behind Why Everything You Know About Success Is (Mostly) Wrong by Eric Barker
Eric Barker doesn't beat around any bushes. His book breaks down the most common advice given to those who want to be successful and explains what works and what doesn't. Drawing from an unlikely assortment of figures (Buddha, Genghis Khan, and Spiderman are all here.) Barker breaks down what are ultimately toxic and unhealthy ideas of success and provides direction to achieve success that's sustainable, and reproducible. He kills a lot of idols and helps readers understand what they do and don't want to do for success and that, while, sometimes it's good to be more like Spiderman and less like Genghis, it's always better to look at both critically.
Principles: Life and Work, Ray Dallio
Ray Dallio is perhaps best known for founding the investment firm Bridgewater Associates out of his own apartment in the mid-1970's. Today, Bridgewater is one of the most preeminent private companies in the country, and this book offers a peek into that process, serving as part case study, part introspective memoir, and part ruthless self-critique. Dallio's biggest assertion in is that there are rules for everything — business, management, investing — and that if someone follows them, they're set for success. It's a business book by a business bro but it makes a lot of sense.
Declutter Your Mind: How to Stop Worrying, Relieve Anxiety, and Eliminate Negative Thinking, S.J. Scott
Mindfulness, the new 'it' strategy for trying to be way more chill in the midst of the chaos of life, has been the subject of many a self-help book, and this book is no exception. But Declutter is an exception in the simple, straightforward way it approaches the topic. It's full of mindfulness exercises for those who are interested in relieving their anxiety and the constant humdrum of worry but don't know where to start. If you find that you just want to think better about the world that is around you, this book is a good place to start.
Make Your Bed: Little Things That Can Change Your Life…And Maybe the World, William H. McRaven
Admiral William H. McRaven knows a little bit about success. A former Navy Seal Team Six member, task group commander during the Persian Gulf War, he worked under Obama, led the expedition to execute Osama bin Laden, and, after retirement, became a chancellor for the University of Texas. He's been busy. This book of advice started from a viral speech McRaven gave at a University of Texas graduation ceremony and draws on the extremely practical and small things that can change your life over time — like making your bed. The idea here is that small habits become big, life-long changes, if you just stick to it. It's ideal for the busy dad.
Not Another F-ing Motivation Book: A Pragmatist's Guide to Nailing Your Motivation, Keeping It, and Effortlessly Achieving Your Goals, Joanna Jast
Unlike a lot of motivation and self-help books which begin with a prescribed several-step plan motivate those who want to do more and better, this book recognizes that not everyone is motivated by the same things or even works in the same way, and helps you figure out what actually works. The book asks what you have the bandwidth to do and tells you to do it instead of focusing on what 'you think you should be doing.'
Not Nice: Stop People Pleasing, Staying Silent, & Feeling Guilty… And Start Speaking Up, Saying No, Asking Boldly, And Unapologetically Being Yourself, Dr. Aziz Gazipura
No is a powerful word, one that you say to your toddler all too often. But it's also important to say to your boss, or your friends, or your family members. This book is a helpful reminder that sometimes the best way to to do better and more is by saying "no." No to superiors who ask too much or acquaintances who take advantage of you. For those who tend to withdraw during conflict or go silent when dealing with difficulty, this book is a helpful reminder that speaking up will help you get far.
If You're So Smart, Why Aren't You Happy?, Raj Raghunathan
There's often a wide river between professional success and personal fulfillment. This book, written by Raj Raghunathan, a professor at the University of Texas' McCombs School of Business, explores that premise. After Raj visited friends from his MBA program, 15 years after getting his degree, he noticed that many of his most professionally successful friends were also unhappy in their private lives. This book was inspired by that phenomenon and it offers perspective and aid to those who might be successful but unsatisfied. It explains the minimal link between wealth and happiness, extols the virtuousness of generosity, and argues that accepting that much of life is uncertain will help you stop looking for greener pastures and look at the green land below your feet. Something all of us would do well understanding.