Reddit Co-Founder Alexis Ohanian on Fatherhood, Family Leave, and Marriage to Serena Williams
The Silicon Valley guru, husband of Serena Williams, and vocal advocate for paid family leave talks tech, balancing the "mental load" of parenting, and his new podcast, "Business Dad."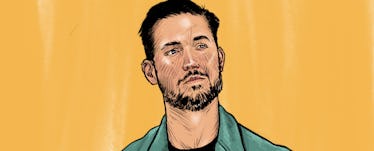 Kreg Franco for Fatherly
As co-founder of Reddit, Alexis Ohanian gave the internet a front page and fundamentally reshaped it. Ever since he became a father to daughter Olympia two years ago with wife Serena Williams (yes, that Serena Williams), he's working to reshape the way we think about parenthood in America After taking advantage of his company's 16-week paternity leave (no longer with Reddit, he now runs the venture capital firm Initialized Capital) he's been an extremely vocal advocate for sweeping Family Leave policies as well as championing the father's role. Being a dad, he knows, is about actively spending time with your family. One of the most important ways to do this is simply to have the opportunity for quality time when your child is young. This means companies need to change policies. It means our country does, too.
Part of Ohanian's work surrounds changing the conversation — and inherent biases — about fatherhood by having conversations with men about how they balance work and fatherhood. On his new podcast, Business Dad, he sits down with a variety of famous dads, including comedian Hasan Minaj, NBA All-Star Chris Bosh, former NFL player Justin Tuck, and Entrepreneur Scott Belsky, for frank conversations about fatherhood, business, and how they "balance it all." The latter is a question predominantly asked to working moms — and that's exactly the point. By asking this questions to men, Ohanian chipping away at the stereotypes that prevent men from becoming active fathers.
Fatherly spoke to Ohanian about the benefits of family leave, the role he wants technology to play in his daughter's life, and what he does to ensure he balances the "mental load" at home.
On "Business Dad", you have conversations with famous fathers — Hasan Minhaj, The Kid Mero, Chris Bosh — about how they balance work and fatherhood. Have you been surprised by any of the recurring themes in those conversations?
One of my favorite parts of these conversations was hearing more about the rituals and routines – big and small – many of these men have made central to their experience of parenting. Hasan Minhaj, for example, talks about how he's carved out uninterrupted time with his daughter in the morning. It was something his wife suggested, but it's really worked for him, especially because he has long nights and often-unpredictable days, and he's grown to look forward to it and protect it as sacred time. I talked to Nicholas Thompson, WIRED's Editor-in-Chief, about this awesome, incredibly creative story he creates with his kids before bedtime every night. I'm sure that sometimes Hasan's daughter wakes up in a mood or Nick's kids let the story drag on longer than he'd like, so I'm not saying it's always good times, but it's helped them protect time with their children amidst an incredibly busy and demanding work life.
You took 16 weeks of paternity leave. What was your biggest learning from the period? How did you spend that time?
My paternity leave was just as important for getting to know Olympia and feeling comfortable with her as it was for being there for my wife. We've been very public about the complications Serena experienced after giving birth to Olympia and I honestly couldn't have imagined being anywhere other than at home with her while she was recovering. It was important to be there for her physically (she could hardly walk) but also emotionally. It's a big deal to welcome new life into a family.
Being able to spend that quality time with Olympia also gave me the confidence that I could figure out this whole parenting thing. It started small (could I hold her without squeezing her too hard in my giant hands?!) and increasingly grew to feeling confident with changing diapers, rocking her to sleep, and more. There are tons of situations that come up that challenge us as parents, and I definitely don't have all the answers, but my experience on leave gave me the confidence that I can figure it out.
In taking leave, you were helping to address a problem. Uptake is low for paternity leave even among those offered that benefit. There's definitely a suspicion among many new dads that they'll be punished for taking time off. As a manager, it's very clear that you wouldn't do that, but don't you think many of these men are probably right? What do you think can be done about managers with old-school mindsets?
The fear of being punished — foregoing that promotion, not having a job to return to, being perceived as less motivated or hardworking — is real. I hope my taking leave gives confidence to more working men who are lucky enough to have access to paternity leave. I won't discredit how powerful that fear and those stigmas are, I will also say there's a real business case to be made for taking leave, and even the most old-school managers should understand that. We can't expect our employees to do their best work if their home life isn't in order. While they may take a hit on short-term productivity while they're on leave, this is a longer-term investment in that employee's productivity and satisfaction. We know the impact it has on maternal health and the health of your child (which in the long-run is saving money as well as lives) but I think we'll also start to see more evidence that helps boost employee productivity and retention.
You're an investor. How do you counsel the businesses that Initialized Capital is involved in to handle parental benefits? Do you talk to founders about these issues?
It really depends on the company, their funding stage, and team size. We'd encourage our companies that have found some stability post-product-market fit and raised a Series A to implement some sort of policy. It's never too early to start the conversation, but a lot of times we're the first check a founder is receiving and they're still a small founding team that is trying to find their footing. We've seen some awesome cases of founders at the earliest stages, post-seed funding, offering paid leave to early hires but know that's not always the norm. We're also starting to publish more as a firm about the issue; we're even seeing a trend of new companies in the Family Tech space.
You're probably the most well known advocate for paternity leave. Fatherly does some advocacy on the issue as well and it's not unusual for us to get rebuffed a bit. No one is against paternity leave, but there's a general reluctance to prioritize an issue that largely affects white-collar men. When you encounter resistance on the issue, how do you push through?
Paternity leave should not be an elite benefit. Everyone should be able to be with their families in the moments that matter most and that's why I've been fighting for it to become a federal program for all Americans. I know it can seem like it's just a tech industry thing or a benefit extended solely to high-level executives, but we're starting to see this change. Last year, Sweetgreen rolled out five months of paid leave for its workers, and Target expanded its paid family package to offer workers up to four weeks of paid time off. It's not lost on me that 94% of low-wage working people don't have a single day of paid family leave, but that's even more reason to prioritize a federal policy that extends benefits to those folks.
The only resistance I tend to get is around how to pay for paid family leave. It's a uniquely bipartisan issue that members of Congress on both sides agree is valuable. The problem is more about driving urgency around the issue so we can pass a law to get it enacted and funded.
You're a famous, successful guy. Your wife is an icon and perhaps inarguably the single most dominant athlete to ever play a professional sport. How did you go about providing support for someone so strong during pregnancy and after the birth of your child?
At the most basic level, Serena needed physical support with things like getting out of bed and changing her bandages in the weeks after giving birth to Olympia. This was definitely crucial, but I think the most valuable support I provided was just being there and showing up to each day's adventures with our new baby. There's a lot to learn and adjust to, and being there for each other through it all was probably the most powerful way we could support each other.
One of the things that we observe a lot at Fatherly is men wanting to be more involved but still forcing their wives into an executive role at home, essentially declining to take on what we'd call the "mental load" of keeping a family humming. Did you find yourself doing this at all? Was it something that you specifically thought about going into the experience of fatherhood?
Oh, I love many elements of my "Executive Role" at home, for many of the same reasons I enjoy it professionally. Granted, we've been lucky to have the support of caregivers, family members, and friends who've helped offset some of the day-to-day responsibilities, but that alone doesn't ease the mental load. I love building organizations. And it's not very romantic, but I think of our household the same way. Spending that time on leave let me better structure and evolve our 'family organization' with the addition of our newborn.
As a prominent player in tech, what role do you want technology to play in your family's life? What are the big opportunities you see for tech firms trying to market to parents and families?
My hope for Olympia is that she appreciates the potential of technology the way I do, but also knows it's limitations and still wants to play outside and be a kid. I also want her (and everyone!) to learn how to code. I strongly believe learning to code is the most valuable thing someone can do for their career today. She doesn't need to do it professionally, but I absolutely want her to be exposed to it, early.
We've made a few different investments in companies targeting parents and families, and we're really excited about their potential — specifically The Mom Project, which is a digital talent marketplace for working mothers, and Nara Baby Tracker, which makes coordination and communication between all caregivers easier and more collaborative. A lot of technology in the family sector has been targeted to moms. There is still a lot of room for growth there and a larger market of moms to address, but I think there's also an opportunity to market to fathers. That's a demo that has yet to be tapped in a real way and, as we continue to see this shift in how career men view fatherhood, this market opportunity will only grow.
Reddit has the Daddit subreddit, but it doesn't seem to have a big, healthy community of dad's sharing tips or stories. Why do you suppose that is? It's demographically a bit surprising….
That's because everyone is sharing and discussing videos on https://www.reddit.com/r/DadReflexes/
This is a broad question, but what about yourself did you not know before you became a father?
I've always felt a lot of conviction in what I've done with my career — whether it was starting and building Reddit or my venture capital firm Initialized Capital — but it takes on new meaning with becoming a father. It's crystallized what I do and why I do it, which is to provide a legacy for my family and aim to help improve the world they'll inherit.