It's Time For Public Schools to Open Their Playgrounds to the Public
Public schools are the heart of a community. So why won't they let the neighbors in?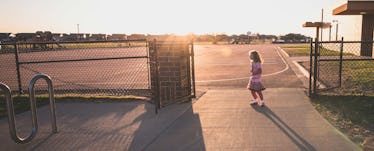 Public schools have long been seen as the heart of the community. After all, educating our children is what a responsible and caring community does. So why doesn't it feel like we're a part of it? When is the last time you were invited to a space that wasn't to fundraise for the school, to attend a parent-teacher conference, or to pick up your kid? Public schools don't tend to open their doors to their neighbors. In fact, they quite literally lock them out. Some of this is for safety, of course, but that fence around the perimeter — what purpose is that serving? To open the gates and make the school the true center of the community, action needs to be taken.
It's time to tear down the fences and open up their playgrounds.
Yes, playgrounds (and recreational fields) are the way for public schools to better connect with the community. A recent report by The Trust for Public Land (TPL), a non-profit with a mandate to increase public access to greenspace, points to just how vital school property could be to their surrounding communities. They note that if public schoolyards were redesigned to be green, vibrant, public parks, 20 million people would suddenly have access to a park within a 10-minute walk to their home. Currently, based on TPL data, 100 million Americans have to travel more than ten minutes on foot to find a public park.
Park access is incredibly important to communities. They have been shown to improve both mental and physical health for kids and adults alike. In an era when kids are more stressed and increasingly struggle with obesity, access to green spaces could help turn the tide.
The problem is that schools often see their space as another way to profit from their community. Rather than offering fields, gyms, or playgrounds to the community to use for free, they sell access to sporting groups and organizations. In other instances, districting rules may mean that children who have a public school nearby are locked out of accessing facilities because they technically belong to a different school district, often located miles away from their home. In many urban schools, the playground is fenced off from the neighborhoods where they are located, leaving vital play equipment fallow and unused when school is out of session.
Not only does siloing a school's resources represent wasted potential it also means that schools miss out on good opportunities to build goodwill and improve the health and wellbeing of both students and parents. Opening a school's land to the surrounding community will give community members a greater sense of buy-in. How much more likely would it be for neighbors to vote for school levies if they knew that their tax dollars went to maintaining a green space they could use?
Schools work best when they operate as the vital heart of the communities that they serve. In recent years the balance has been skewed towards the students alone. It's time to expand that notion, starting with spaces that will help keep all the neighbors healthy and happy.