The 50 Best Places to Work For New Dads 2018: Patagonia
Our list of 50 Best Places to Work For New Dads in 2018 recognizes companies with exceptional paternity leave and benefits programs.
by Fatherly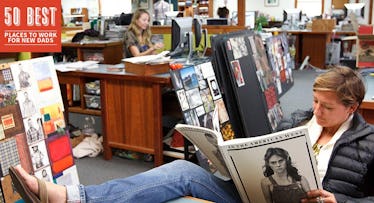 Patagonia
Fatherly's annual "50 Best Places to Work for New Dads" ranking is a celebration of corporations committed to helping men manage their dual roles as providers and caregivers. Though only one company can be ranked number one, every company featured has provided real support for working parents with exceptional and thoughtful offerings.
Patagonia
Rank: 14
2017 Rank: 9Number of Employees: 1,550
In 2016, Patagonia's Malinda Chouinard and her longtime colleague and friend Jennifer Ridgeway released a book entitled, Family Business: Innovative On-Site Child Care Since 1983. The tome is a guide to creating a family-friendly workplace and no two people could have been better positioned to author it. As the title suggests, Patagonia, which offers 12 weeks of fully paid leave, has demonstrated a commitment to families for 25 years. The California-based company famously offers on-site child care at its Ventura, California, campus, a program it recently expanded to its Reno Distribution Center, where approximately two-thirds of the company's employees work. Both the Great Pacific Child Development Center in Ventura and the Truckee River Developmental Center in Reno offer daycare, preschool and afterschool programs. Naturally, there's a heavy emphasis on getting outdoors.
Patagonia also offers a massive number of additional perks, including $15,000 in funding for fertility treatments, adoption assistance, free healthcare, a subsidy to employees in locations that don't have access to on-site childcare, and a travel support program that allow kids under the age of one and a caregiver (company-provided or parent-chose) to accompany employees on work trips. The company also operates on a "9/80" schedule, which means that every other week has a three-day weekend. When the campus is closed, the company reimburses employees for childcare costs.
Fatherly's 2018 rankings are based on a scoring metric inclusive of data related to company policies on the following issues: paid parent leave, ramp-back time, flextime, onsite childcare, childcare subsidies, backup childcare, number of sick days, support groups, fertility aid, adoption aid, student loan assistance, education funding, bereavement leave, elder care planning. Length of paid leave, onsite childcare, and ramp-back time were the most heavily weighted ranking factors.