Why Parkland Shooting Victims' Parents Are Suing Gun Companies
Florida law protects gun manufacturers and sellers from being subject to litigation.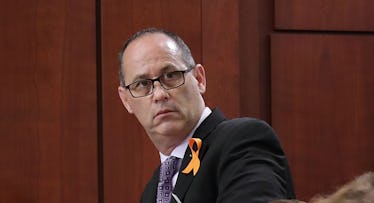 GETTY
The families of two students of the 17 students killed at Marjory Stoneman Douglas High in Parkland, Florida by17-year-old former student Nicholas Cruz on Valentine's Day are suing the store where Cruz bought his AR-15 and the weapon's manufacturer. Fred and Jennifer Guttenberg, the parents of Jamie Guttenberg, and Max Schachter, the father of Alex Schachter, have joined forces to file suit against Sunrise Tactical Supply, a gun store in Coral Springs, and American Outdoor Brands, the company formerly known as Smith & Wesson. The suit is unusual because Florida has a standing law that manufacturers and sellers of firearms cannot be held accountable for actions taken with those firearms. In effect, these parents are trying to knock down a legal barrier.
In order to continue with the lawsuit, the court has to decide to rule against a formerly established legal precedent in the state of Florida that does not allow for any gun manufacturers or related business entities to be held liable if the purchased gun is used in an illegal way. The law protecting gun manufacturers was passed in 2001 and signed by former Governor Jeb Bush. The law was a reaction to efforts by Miami-Dade County officials efforts to force gun manufacturers, including American Outdoor Brands, to be held financially liable for health care costs of gunshot wound victims.
The Gutenbergs and Schachter filed suit in Broward County Circuit Court on Wednesday. They appear to have done so as a part of an organized effort to affect or facilitate the legal destruction of legislation.
"Our legislators won't do anything about the law," Mr. Guttenberg said of the suit. "The gun lobby won't do anything about the law. The manufacturers, marketers, and sellers of these guns say, 'It's not our fault.' This is the only industry where there is apparently a protected class."
That is not 100 percent true. The fast food industry is another major industry that is protected from lawsuits — in that case from people disturbed by health outcomes. That said, some legal professionals have questioned the bans on legal actions against these entities as overreactions to hypothetical nonsense suits.
This all makes the Parkland parents' lawsuit both risky and interesting. Should the court not agree with Guttenberg and Schachter's arguments — that the Florida law infringes on their seventh amendment right to a civil jury trial — the family will be liable for all legal costs associated with bringing the suit to trial, including attorneys fees and compensation for loss of income. The parties on the other side of the suit would not be held liable for any financial losses. It is notable that Parkland is a generally wealthy suburb — not unlike Sandy Hook, Connecticut or Columbine, Colorado.
The Guttenbergs own the Parkland Homes 'R' Us. Max Schachter works in financial services. Both men have become activists in the wake of their childrens' murders.
This is not the first lawsuit to come out of the Parkland shooting. Andrew Pollack, whose daughter also died in the massacre, has filed suit against the school resource officer who infamously did not enter the building to confront the school shooter.
This article was originally published on