The 50 Best Places to Work For New Dads 2018: NVIDIA
Our list of 50 Best Places to Work For New Dads in 2018 recognizes companies with exceptional paternity leave and benefits programs.
by Fatherly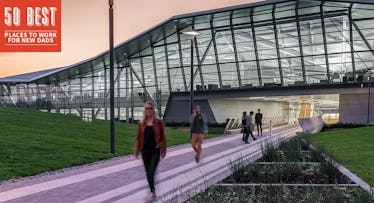 Nvidia
Fatherly's annual "50 Best Places to Work for New Dads" ranking is a celebration of corporations committed to helping men manage their dual roles as providers and caregivers. Though only one company can be ranked number one, every company featured has provided real support for working parents with exceptional and thoughtful offerings.
NVIDIA
Rank: 18
2017 Rank: 15Number of Employees: 6,519
Based in Santa Clara, California, NVIDIA designs the graphics processing units that make video games and movie special effects look awesome. Company employees are entitled to 12 weeks of fully-paid leave after the birth of a new child and mothers are offered 10 weeks off in advance of that birth. Following leave, dads and moms can both take eight weeks of flex-time to ease back into working while taking care of their newborn, and NVIDIA supports a strong culture of employees creating their own schedules.
Along with seven days of sick leave that can be used for children, NVIDIA offers elder care support, as well as advocacy services and support for parents of special needs children. Mothers also get access to rooms and pumps for breastfeeding, and a front-row parking spot during pregnancy.
Fatherly's 2018 rankings are based on a scoring metric inclusive of data related to company policies on the following issues: paid parent leave, ramp-back time, flextime, onsite childcare, childcare subsidies, backup childcare, number of sick days, support groups, fertility aid, adoption aid, student loan assistance, education funding, bereavement leave, elder care planning. Length of paid leave, onsite childcare, and ramp-back time were the most heavily weighted ranking factors.