High School Principal Announces Snow Day With This Hilarious Video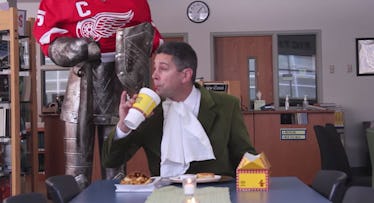 It's the heart of winter, which means snow-shoveling, windshield-defrosting, and crappier commuting for you. But for your kids (and their teachers) it means one thing: the possibility of a snow day. And while any school-closing phone call or email is more than enough to illicit screams of joy, Jason Curtis, principal of Cardinal Gibbons high school, decided to film an epic snow day video.
It features Curtis exploring the empty school in full-on dad attire: a blazer, shirt, tie, bathing suit, and high white socks. He roasts marshmallows in the science lab, enjoys a candle-lit meal in the cafeteria, and sleds down the stairs, proving that principals enjoy snow days as much as their students. Stand up and pledge allegiance to those dad jokes.
It's unclear whether or not Curtis has kids of his own, but he's definitely earned a spot in the "Dad Hall of Fame." Points for an attempted 'whip', a dance move that kids have been calling uncool since Harambe jokes were still funny. More points for all the Ferris Bueller references, including "Oh Yeah" by Yello (or the "chicka-chicka" song, if you will) and a suit of armor wearing in a Red Wings jersey.
The video currently has more than 30,000 views, which is probably 29,000 more than Curtis was expecting when he posted it. So next time you lead a meeting at work, ditch the PowerPoint and follow the example of one bold principal who chose to take the ordinary and create something extraordinary. Or not.
This article was originally published on