The U.K.'s New Porn Law, Explained
The U.K. is revving up new online censorship laws that will, among other things, make it much harder to access adult content.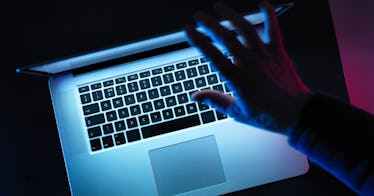 The Digital Economy Act, a new set of laws that will come into effect in April in the United Kingdom, includes copyright infringement rules, consumer rights in the event of negligent internet service, broadband minimum requirements, and, last but certainly not least, a hotly-debated law regarding pornography access.
The "porn law", as it's known, will make it illegal for anyone under the age of 18 to access adult content and enforces that through complex age verification. The law is different than YouTube's 13+ verification or anything we see in the United States, largely because it intends to actually be enforceable. Rather than requiring users to simply enter their birthday or pass some CAPTCHA, the law puts the onus on companies to make sure that they are doing the work to keep underaged kids off their websites. So, what is the "porn law", how will it be enforced, and will it work? Here's what everyone should know.
How the U.K.'s "Porn Law" Works
Under the law, anytime someone with an IP address from the UK tries to access a pornography site, they will be asked to verify that they are 18 years of age or older. The British Board of Film Classification (BBFC), the government office in charge of making sure that porn websites are abiding by the new law, has given the websites free reign as to how they want to verify the age of their users. This has lead to the utilization of a variety of technology and consumer options. The technologies that are available to these websites are AgeID, AgeChecked, AgePass, and Yoti, according to WIRED. The companies that provide porn to the Internet, however, will have to pay for these services themselves.
The BBFC will monitor the porn sites and ensure that they are doing all in their power to keep minors off the websites in question. If the BBFC see sites not complying with the new law, the BBFC will be allowed to punish those companies to the degree they deem appropriate.
What are the Age Verification Systems Being Used?
There are currently four private technology systems that porn websites can use to verify the age of users on their sites. Here they are:
Yoti: Yoti uses camera tech to take temporary photos of people who are trying to access pornographic websites and then, Yoti says they delete the photos immediately. By using photos of people's faces, they are trying to determine the user's approximate age.
AgeID: AgeID is a technology created by MindGeek, which coincidentally owns Pornhub, RedTube and YouPorn, some of the most popular porn sites on the web, according to The Verge. People who try to access porn on that site verify their email through AgeID and then, through a third-party vendor, choose to verify their age either through a passport, drivers license, a text message, etc. A physical version of that access portal, called the PortesCard, can also be bought in local stores for $5 to $8 dollars depending on how many devices you want to access porn on. AgeID is one of those techs where if you get on RedTube and want to get on YouPorn later, you won't have to continually verify your identity.
AgePass: AgePass is the only tech offered that uses blockchain technology — most popularized by the BitCoin boom and bust — in order to verify the age of its users. This way, users identity will be protected and decentralized, rather than in one place, and it won't ask for usernames or email addresses of people trying to access porn. The AgePass also has a physical card consumers can buy in stores.
AgeChecked: This tech has people verify their age through either an app, drivers licenses or their credit cards. After they verify their age once, they get a username and a password and can use it to access porn across a host of different websites using that login.
Will the "Porn Law" Actually Work?
Privacy experts are concerned that allowing private companies to have more access to consumer's information such as their passport, their license number, or their credit and debit numbers or even photos of their faces could create a database of porn users that could even include their porn preferences and usage. Although some of these technology companies claim that the information is scrubbed as soon as the age of the user is verified, there doesn't seem to be any regulatory power that could confirm that. The Daily Beast reported that many of the private age verification companies have fine print that is troubling. For example, AgeID, in a section of their privacy policy, states: "By using the Platform you consent to the transfer of information that we collect about you, including personal information, to any country in which we, our affiliates or service providers maintain facilities and the use and disclosure of information about you as described in this privacy policy." Other companies have similar stipulations.
The other concern of many tech experts is that by simply having a VPN — that is, a virtual private network — that disguises the location of the internet user in question, any average teenager with minimal tech knowledge could work their way around the porn ban easily. It's a known phenomenon that as soon as something is banned, its popularity rises. Porn usage in the UK has been on the rise and porn experts think that the numbers will only get larger if porn access is restricted in the country.
Many experts argue that of the literal millions of porn websites, enforcing the age law completely will be impossible. That doesn't mean that the law shouldn't attempt to be rolled out — but it does mean that it might not have total efficacy. Part of the law stipulates that a pornographic website is a website where more than a third of its content is pornographic in nature, and that as long as two thirds of the websites in question are not pornographic, those sites will not be monitored for pornography. That means that sites like Twitter and Tumblr — which have their fair share of pornographic material — will not be regulated under this law, despite the fact that users could still engage with unsafe material.
All that being said, the law does do something that no tech company or country has really tried to do before: actually make age verification laws enforceable. Whereas before, entering an age on a website to prove you are 21 or 18 or 13 is more a matter of liability for companies like YouTube, Twitter, or Facebook, this law represents an actually enforceable approach to that rule, and it could keep kids from engaging with material they don't yet understand. How it is rolled out will speak volumes as to whether major changes can be made to the internet in the future in the UK and abroad.
This article was originally published on