The 50 Best Places to Work For New Dads 2018: Netflix
Our list of 50 Best Places to Work For New Dads in 2018 recognizes companies with exceptional paternity leave and benefits programs.
by Fatherly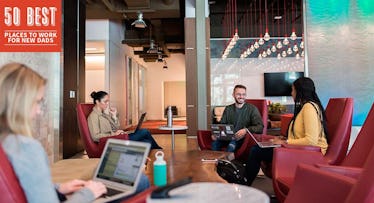 Netflix
Fatherly's annual "50 Best Places to Work for New Dads" ranking is a celebration of corporations committed to helping men manage their dual roles as providers and caregivers. Though only one company can be ranked number one, every company featured has provided real support for working parents with exceptional and thoughtful offerings.
Netflix
Rank: 8
2017 Rank: 1Full-time employees: 4,000
Netflix knows what it takes to make the whole world binge. In 2017, the streaming giant had a counted some 117,600,000 million subscribers and, in 2018, execs are continuing their aggressive expansion, signing a number of major names, including Ryan Murphy, Shonda Rhimes, and Barack and Michelle Obama, to their production slate. Netflix, it seems, thinks big. And that extends to its treatment of its employees as well. The company, which has grown to more than 4,000 full-time employees, famously offers tons of flexibility and perks to elite employees that thrive in a feedback-centric and competitive environment. That means that company and employees and their managers are free to work out a plan that tailored to the specific situation. There is no hard cap on the amount of leave employees can take, but "unlimited" might be a misnomer as employees at companies with unlimited vacation policies often wind up taking less time off for a range of expectations-related reasons.
It's worth noting that Netflix does not offer statistics on how many people take advantage of its full offering, which is the sole reason that the company does not currently top out this list. That said, there's plenty of reason to believe that the flexibility Netflix gives its employees is as meaningful as the suites of perks — many of which it also offers — available at the other elite companies on this list. What is also very clear is that Netflix's massive success and singular work culture has become a model that many CEOs look to for guidance.
Fatherly's 2018 rankings are based on a scoring metric inclusive of data related to company policies on the following issues: paid parent leave, ramp-back time, flextime, onsite childcare, childcare subsidies, backup childcare, number of sick days, support groups, fertility aid, adoption aid, student loan assistance, education funding, bereavement leave, elder care planning. Length of paid leave, onsite childcare, and ramp-back time were the most heavily weighted ranking factors.
This article was originally published on