Don't Let the Mueller Report Ruin Easter, Passover, Life
The Mueller Report landed just in time to be the main discussion at many holiday dinners taking place this weekend. What could go wrong?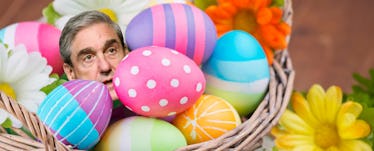 Getty Images; Fatherly Illustration
Hey, everyone, the Mueller Report is here. I, for one, am just glad the country is reading something together. There hasn't been something more than 400 pages this pored over since The Deathly Hallows. But, hoo boy, is this one a bit more complicated than Rowlings' conclusion. The counterintelligence report into possible Russian interference in the 2016 election brings up everything from shady business dealings to "hacking and dumping" operations to Hilary Clinton's emails. It maybe, just maybe, contains word of the existence of the pee-tape, too, which, in many circles, is spoken of with the same mythical reverence as a horcrux or holy grail.
Oh, speaking of the holy grail. Yesterday, in fact, was Holy Thursday, the Christian holiday that commemorates the Last Supper. At that final meal Jesus shared with his apostles before dying on the cross, he drank from the holy chalice. Today is Good Friday. Sunday is Easter. This is the holiest stretch of the Catholic calendar. It also coincides, as it often does, with the start of Passover, an extremely important holiday for those of the Jewish faith.
While these holidays won't result in a Thanksgiving-level of homecomings, a whole lot of families will likely be gathering this weekend to celebrate. Religious obligations will take place. There will be Easter Egg hunts. There will good-intentioned moms and dads dressed in bunny costumes and accidentally terrifying children. There will be matzo broken and ham carved. And, thanks to the Mueller Report, there will also be a lot of opportunity to clash with family members young and old about the words that have slithered out of William Barr's droopy mouth, about Trump saying "I'm fucked!", about Donald Jr.'s Trump Tower meeting, about Sarah Huckabee Sanders' spread of disinformation, about the definition of obstruction, about whether or not "great lawyers take notes."
In short, the Mueller Report's not-so-well-timed release has provided quite a lot of kindling that, if sparked, will ignite family debates — and burn as bright and as long — as though they were Westeros Wildfire.
So, here's something to consider as the holiday weekends approach: don't bring up the Mueller Report. Silence any notifications. Spare your brain from the nonstop news cycle. Don't go on Twitter to see whose take is the spiciest or whose meme is the silliest. Don't come loaded with talking points to goad your Uncle Fred or Aunt Betty or brother-in-law into saying something stupid. Don't fire back when your cousin wants to talk about the impeachment or pee tapes. Don't come into the holiday spoiling for a fight.
The Mueller Report should dominate the news cycle. And it will. It will be thought about, interrogated, considered, and spun more times than that fucking top in Inception. But this weekend it should be ignored. Political discourse is important for families to engage in. And we live in an era where someone's casually toxic points of view shouldn't be left off the hook due to fear of confrontation or because of cute phrases like "my family just doesn't discuss that stuff." That's how monsters are born.
But the Mueller Report is still so fresh that it doesn't need to be brought up around the family table this weekend. There are holidays to celebrate. Around the table, there is so much else to discuss. There are family stories to remember. There are personal triumphs and failures and heartbreaks to bring up. There are Game of Thrones and Avengers theories to debate. Talk to your ornery uncle about his thoughts on Rise of Skywalker. Argue instead about what the name means. Why doesn't it have a "the"? Is it to imply an entire lineage's ascent?
This weekend, as you gather for family meals and greet relatives and bust out those PAAS egg-dying kits, understand this: the Mueller Report isn't going anywhere. It is undeniably important. But it's okay to let it — and everything it portends — sit for a few days undiscussed and make the holiday be about family. There are other things to talk about.
This article was originally published on