The Most Popular Baby Names of 2020, According to the Social Security Administration
Each of our kids may be unique and special — but they are also all named Olivia.
by Emily Kelleher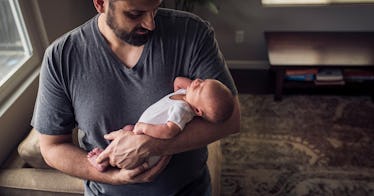 Every time a baby is born in the United States, the Social Security Administration takes note, adding their name to a registry. A look at the resulting list of baby names reveals which names show up more often than others. So each spring, the SSA releases a list of the previous year's most popular baby names. The list lets us see which names parents across the country gravitated to, and which classics fell off their radar. The top 50 always includes a decent number of enduring classics like Emma, Isabella, William, and Benjamin, but more unique names point to emerging trends. Newly popular names like Harper and Mason stood out as trendy favorites in 2019, and while they were still among the most popular baby names of 2020, they got knocked down a few spots in favor of a return to classics like Evelyn and Lucas. At the top of the list are two oldies but goodies: Olivia and Liam.
The SSA also releases state-by-state baby name data, so curious parents can see whether their top name was a local favorite or something beloved across the board. While many states' most popular names aligned with the most popular names nationally (Olivia and Liam) other states saw more kids born with names further down the list. See how your state, and name preferences, compares.
The Most Popular Baby Girl Names of 2020
Olivia
Emma
Ava
Charlotte
Sophia
Amelia
Isabella
Mia
Evelyn
Harper
Camila
Gianna
Abigail
Luna
Ella
Elizabeth
Sofia
Emily
Avery
Mila
Scarlett
Eleanor
Madison
Layla
Penelope
Aria
Chloe
Grace
Ellie
Nora
Hazel
Zoey
Riley
Victoria
Lily
Aurora
Violet
Nova
Hannah
Emilia
Zoe
Stella
Everly
Isla
Leah
Lillian
Addison
Willow
Lucy
Paisley
The Most Popular Baby Boy Names of 2020
Liam
Noah
Oliver
Elijah
William
James
Benjamin
Lucas
Henry
Alexander
Mason
Michael
Ethan
Daniel
Jacob
Logan
Jackson
Levi
Sebastian
Mateo
Jack
Owen
Theodore
Aiden
Samuel
Joseph
John
David
Wyatt
Matthew
Luke
Asher
Carter
Julian
Grayson
Leo
Jayden
Gabriel
Isaac
Lincoln
Anthony
Hudson
Dylan
Ezra
Thomas
Charles
Christopher
Jaxon
Maverick
Josiah
Last Year's Most Popular Baby Girl Names by State
Last Year's Most Popular Baby Boy Names by State
This article was originally published on