The Most Popular Baby Names of 2019, According to the Social Security Administration
Harper and Axel are still in play.
by Emily Kelleher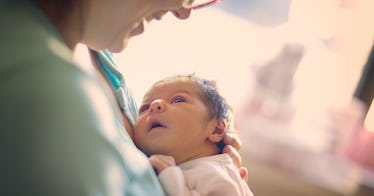 Each year the Social Security Administration collects and records the names of every baby born in the country. The resulting lists of that year's most popular baby names, both nationally and state by state, gives us a glimpse into the American consciousness that year, or at least the minds of parents trying to pick a bully-proof name. The annual list of the most popular baby names often alludes to cultural events, popular shows (ahem, Khaleesi), and our collective taste. While some predictably popular classics, like Olivia and Benjamin, make the national list each year and take the spot as many state's most popular names, less familiar picks like Harper and Noah reveal emerging trends and showcase regional preferences.
This year, the Social Security Administration delayed the release of the most popular baby names of 2019 out of respect for those affected by COVID-19. But the list is finally here, as well as the breakdown of popular names by state. The top 10 most popular baby girl names of 2019 actually includes all of the same names as 2018, though Olivia surpassed Emma as the most popular name, and four other names switched places. As for boys' baby names, there's one new name, with Ethan replacing Logan as the 10th most popular baby boy name of the year.
The list of most popular baby names for boys and girls by state reveals which regions favor which baby names. While there's a lot of overlap between popular names by state and the national list, some states had some wildcards within their top five most popular names. For example, Wyoming's fifth most popular name was Willow, while California's was Camila. As for boy names, similar trends were revealed, with most states favoring Liam, Oliver, or William. More original top five picks included Asher in Wyoming, Easton in West Virginia, Wyatt in South Dakota, Mateo in New Mexico, Ezekiel in Hawaii, and Owen in New Hampshire.
Check out the full list of the most popular baby names of 2019, plus a map of the most popular baby names by state, below.
The Most Popular Baby Girl Names of 2019 by State
The Most Popular Baby Boy Names of 2019 by State
The Most Popular Baby Girl Names of 2019
Olivia
Emma
Ava
Sophia
Isabella
Charlotte
Amelia
Mia
Harper
Evelyn
The Most Popular Baby Boy Names of 2019
Liam
Noah
Oliver
William
Elijah
James
Benjamin
Lucas
Mason
Ethan
This article was originally published on