Meghan Markle and Prince Harry Hired Parenting Coach Connie Simpson. Smart Move.
Parenting coaches might seem like the height of opulence for parents, but they can provide a pathway for raising kids, who famously don't arrive with a manual.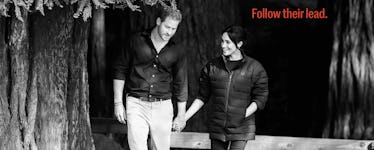 Getty
Even royal babies arrive without a manual. This is why Prince Harry and Meghan Markle have publicly declared their intent to study with the so-called "Supernanny" Connie Simpson prior to the birth of little George. In acknowledging their concerns and addressing their understandable ignorance directly, the soon-to-be first-time parents are serving as role models. Even amid various royal scandals, Harry and Meghan are carving out time to learn and prepare. They should be applauded for taking this step, which is not only likely to reduce anxiety but also likely to help them raise a child under very specific circumstances.
The metaphorical manual that doesn't arrive with infants has actually been in development since the 1950s when pediatrician Dr. Benjamin Spock dropped The Common Sense Book of Baby and Child Care on American parents. Yes, in hindsight we've learned that a lot of the advice contained in that tome was questionable, but it represented an attempt to offer parents evidence-based solutions for intentional parenting. Dr. Spock's book was, in essence, a rebuke to the idea that traditions and instincts provided parents with sufficient guardrails.
Since Dr. Spock's time, there have been decades of research on child rearing. From developmental psychologist Diana Baumrind's work on parenting styles to Dr. Alan Kazdin's work on discipline, scholarship has provided new insight into best practices. There is still no absolute manual — though we at Fatherly are doing our damnedest to create something expert-sourced and proximate — but there are facts and, in seeking out a teacher, Meghan and Harry are acknowledging that having a bit more data on hand can't hurt.
Good for them.
In truth, there's no real merit in gritting your teeth and making it up as you go if you have the time and resources to look for parental assistance. The House of Windsor clearly does. The old logic of, "My parents didn't know what they were doing and I turned out fine," is increasingly easy to rip asunder using longitudinal studies. You could be better.
Realizing this, the young Royals are reportedly hiring Simpson who, according to her website, has coached "Justin Timberlake and Jessica Biel, Emily Blunt and John Krasinski, Jessica Alba and Cash Warren, Brooke Shields and Chris Henchy, and Lucy and Matt Damon."
Is the takeaway here that parents need to shell out hundreds of thousands of dollars for a high-end parenting coach? No. Of course not. It is simply that seeking out expertise and help is always a good idea.
Fortunately, there is a rich ecosystem of parenting guidance available digitally, and often for free. Dr. Kazdin's "Everyday Parenting" course, for instance, is free on the education website Coursera.
Plus, non-royal parents have an advantage over Meghan and Harry. They can educate themselves discreetly in the privacy of their own home if they want to keep some kind of parental street cred. But I'd advise against that. Seeking help for parenting should be normal and encouraged. The royals are helping make that happen. You should too.
This article was originally published on