Max Greenfield Has Put His Kids to Work — And So Should You
Before, he saw them as beneficiaries of their parents' domestic labor. Now, they're capable collaborators.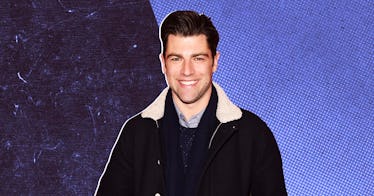 GETTY
As it did for every other parent in America, the pandemic threw Max Greenfield for a loop. Being at home with the kids all day required a lot of adjustments for the 41-year-old actor and married father of two, among them a reconsideration of how his family did chores or, more specifically, who in his family did chores.
Unlike many couples, there wasn't an imbalance between the parents in the household. "We split our duties in ways that make sense for us. She does all the things that require a brain. She pays our bills, handles basically all the really important stuff," he explains. "I just do physical labor. I just clean, put things away, keep things tidy."
Missing from that equation are the couple's kids who, before the pandemic, didn't do much in the way of domestic labor.
More Chore Coverage from Dawn and Swiffer
But spending so much time at home as a family changed how Greenfield thought of his kids. Before, they were just beneficiaries of their parents' efforts to keep the household running smoothly. Now, he sees his kids as capable collaborators.
"Our kids have become not only kids but roommates in this new dynamic. So much of it has been about 'Hey, look I know you're handling your school stuff, or at least you're telling me you are,'" Greenfield quips. "But it also has become 'How can we together be a part of keeping this house running and maintaining it?'"
Part of the answer in Greenfield's house is helping out with one of his most hated chores.
"Cleaning the dishes, doing the dishes, putting the dishes away works so much better when somebody else is involved. I can't tell you how many times I've cleaned the dishes and then I go 'Oh my god, now I gotta put 'em in the fuckin' cupboard?' And I gotta put them away, and I'm just sitting there watching my kids do something. I truly believe in my heart it would be easier if they came over and helped me."
"And every so often we've expressed this, had this conversation, and every once in a while, out of nowhere, my daughter will come over and either not say anything and start helping or she'll be like 'Hey do you need help?'" he recalls with a mixture of pride and relief.
"It's like being given water in the desert. And I always feel like the conversation afterward is 'Didn't that feel good for you? Because I gotta tell you it was so much easier for me.'"
Those breakthrough moments might come few and far between, at least in the beginning, but it's important for parents to make sure their kids understand how crucial their help around the house is, no matter how long it takes.
As the world outside his house opens up and the kids return to their previously scheduled activities, Greenfield isn't eager to go back to the pre-pandemic status quo in his house. And while he hasn't found perfect domestic harmony just yet, he's not ready to throw in the towel.
"You can't give up," he says of turning his kids into helpers. That's pretty solid advice for every parent who wants to make their own home one that every family has a part in maintaining.
This article was originally published on