The 50 Best Places to Work For New Dads 2018: Mastercard
Our list of 50 Best Places to Work For New Dads in 2018 recognizes companies with exceptional paternity leave and benefits programs.
by Fatherly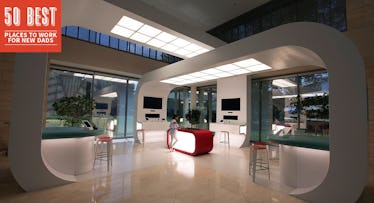 Mastercard
Fatherly's annual "50 Best Places to Work for New Dads" ranking is a celebration of corporations committed to helping men manage their dual roles as providers and caregivers. Though only one company can be ranked number one, every company featured has provided real support for working parents with exceptional and thoughtful offerings.
Mastercard
Rank: 35
2017 Rank: 24Full-Time Employees: 13,400
Based in the aptly-named Purchase, New York, Mastercard is a major employer in St. Louis and nationwide (23,000 financial institutions issue its cards). Since 2016, the company has offered new fathers eight weeks of paid leave as well as a Flex Work program that allows parents to work remotely or on odd schedules, helping balance work demands with family responsibilities.
One program unique to Mastercard is Reproductive Resource Services, which offers employees free access to infertility treatments and covers up to $30,000 in IVF and fertility treatments. "Mastercard recognizes and respects our employees' needs to succeed both at work and in their personal lives," Executive Vice Pesident of Total Rewards Susan Kunreuther told Fatherly. "We're committed to being a workplace that welcomes and enables working fathers, working mothers and all employees to take care of their work and family obligations responsibly through all stages of their lives."
Fatherly's 2018 rankings are based on a scoring metric inclusive of data related to company policies on the following issues: paid parent leave, ramp-back time, flextime, onsite childcare, childcare subsidies, backup childcare, number of sick days, support groups, fertility aid, adoption aid, student loan assistance, education funding, bereavement leave, elder care planning. Length of paid leave, onsite childcare, and ramp-back time were the most heavily weighted ranking factors.
This article was originally published on