I Threw a Kid's Birthday Party With No Presents. Here's What Happened
Instead of buying an expensive gift for my son, we encouraged him to save the money for it himself.
by Monica Pierce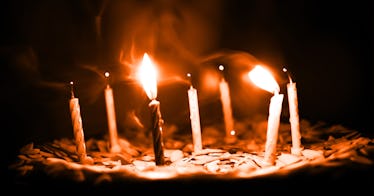 Earlier this year, we celebrated my son Everett's 5th birthday party. It was a classic California March morning: guests were met with a mix of fat raindrops and warm spring sun. As the adults introduced themselves to new friends and embraced some old ones, the kids decorated the Ninjago-themed goodie bags they'd use to collect candy from the Ninjago piñata. It was an ordinary children's birthday party with one exception: no presents. No guests arriving with brightly wrapped boxes, no mountain of gifts on our entryway table. Instead, my kid made about $55.
This was not a money-making venture. Everett just really wanted one thing for his birthday, and one thing only: a Ninjago "Kai Mech." The $60 that it cost, though, was more than either his little friends or my husband and I were going to spend on a 5-year-old's birthday present. Plus, fresh off the heels of Christmas, I couldn't stand the idea of another unneeded toy piling up in the corners of our house, collecting dust after 10 minutes of play.
This story was submitted by a Fatherly reader. Opinions expressed in the story do not reflect the opinions of Fatherly as a publication. The fact that we're printing the story does, however, reflect a belief that it is an interesting and worthwhile read.
So, we got creative. I went up into the cabinet above the refrigerator where all the old vases live and found a clear, 10-inch-high jar. I dusted it off and, with Everett's help, found a picture of his "Kai Mech" to tape to the side. And he started to save, diligently putting in the jar all the money earned from doing his chores around the house: putting his clean laundry away, collecting eggs from the chicken coop, and helping Dada take the trash cans to the street on Monday nights.
The Evite for his party included a message about the jar and the toy he was saving for. In lieu of presents, I invited Everett's friends to make a contribution to his savings jar, and sure enough, they gladly complied.
And so, at our party, there was a jar where presents would normally be piled. As guests arrived, each child handed the birthday boy a personally decorated envelope or handmade card. In addition to the creative drawings and words of love, there were a few dollars inside each.
At the time the party began, the jar contained exactly $5.48. But as he opened each personal card and added the dollars into his jar, he soon had just enough for his toy. Using the red marker we'd been keeping in the jar, he colored in the little chart taped next to the picture of the toy. After months of patience, he finally saw that top line reach the "$60" mark. And he beamed with pride and delight.
This one little exercise contained invaluable life lessons for Everett and all of us in attendance that day. It taught us:
the value of saving and waiting for something you really want
the idea of minimalism (not acquiring toys you don't really need)
the beauty in the generosity of others (his friends' contributions to his effort)
appreciation for sincere thoughtfulness (his friends' handmade cards)
The icing on the cake was when I overheard two of the parents saying how nice it was to not have had to run out and grab a present for yet another birthday party, not knowing for sure what the child wanted, already had, or what other party guests might bring him.
I was a bit nervous to try something new and break a tradition that is so deeply entrenched in our culture. But it turns out, it was a win-win for everyone. As a result, "the jar" is something we will keep doing for the next 41 birthdays we have until all three of our kids reach adulthood. Because any birthday where my child receives the toy he really wanted, my kids all learn valuable life lessons, and my house is less cluttered, is a birthday worth celebrating.
Monica Pierce is a wife and mother of three who writes about her experience as a modern woman in corporate America at weleanout.com.