Stop Calling Epstein's Victims Young Women. They're Children.
In no world is a 14-year-old an underage woman. She is a child.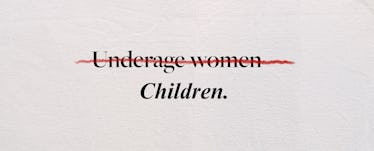 On Saturday, July 6, Jeffrey Epstein, a billionaire financier who has ties to Prince Andrew, President Trump, and former President Clinton was arrested for violating Title 18 of the United States Code, Section 1591. Epstein was charged with child sex trafficking crimes and conspiracy to commit sex trafficking both in New York and Florida between 2002 and 2005. The charge comes from the Attorney General's Office of the Southern District of New York, 11 years after Epstein got off on similar charges through a plea deal handed to him by then-U.S. attorney and now-Labor Secretary, Alex Acosta. That plea deal is now under new scrutiny in light of Epstein's recent charges.
Epstein pleaded guilty to state charges of soliciting prostitution in 2008 and received an extremely lenient sentence. He had to register as a sex offender and spend 13 months in jail but was allowed to leave the jail on work release. What's more, Acosta and his court also agreed to abandon investigating Epstein any further, and to not to prosecute any person who was also accused of finding Epstein young girls.
After serving his sentence, Epstein has walked free. Until now, that is. Unsealed court records show that the 66-year-old is accused of luring underage girls as young as 14 (some 42 years younger than him) to his $77 million home, according to New York Magazine, "under the guise of paying them cash for massages." He is accused of then molesting them and sending them to find more underage girls that he could assault, paying those young children money for finding more victims.
If charged, Epstein could spend up to 45 years in prison for his crimes. He is being held without bail at the Manhattan Correctional Center and prosecutors want to seize his Manhattan townhouse. His employees are accused of helping him procure underage girls when he traveled. During a raid of his Upper East Side Manhattan townhouse on Monday, investigators found a safe filled with photographs of children.
This disturbing case is receiving a lot of media coverage. And as outlets have reported on Epstein's charges, I've noticed that many reports continue to refer to the victims of his crimes as women instead of girls. They mention that Epstein lured "underage women" to his home under the guise of getting massages, to engage in sex acts with those "underage women" for pay and recruited those "underage women" to find him more underage women to engage sex acts with. Several articles published yesterday stated that Epstein was trafficking "underage women" or "young women" for "sex" or sexual acts.
Here's the thing: There is no such thing as an "underage woman." There is such a thing, however, as a young woman — but a young woman is still over 18, and Epstein's alleged victims were not. At least one article, confoundingly, referred to the girls as "underage females," which somehow both robs them of their girlhood and their humanness.
Proper terminology is important. And using the incorrect terms obscures the fact that Epstein, a billionaire adult, is accused of assaulting children and trafficking them for nonconsensual sexual acts. There are children, and there are women. There are girls, and there are adults. There is no in-between. Additionally, no single adult is capable of having "sex" with "minors." There is molestation, there is outright sexual assault, and there is statutory rape. But not sex. Sex implies consent, an equal footing of power, and, of course, the legality of age. Epstein preyed on children, plain and simple.
This article was originally published on