Jason Momoa on the Joys of Raising His 'Feral' Children
In a new short film, the actor explains his love of fatherhood and how following his passions produced the greatest result: his children.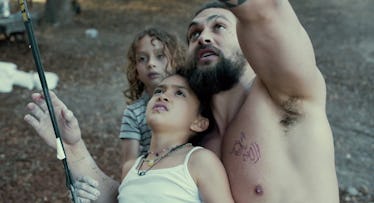 Jason Momoa is known to many as the burly dude with the long hair who brought Khal Drogo and Aquaman to life. But as a recent documentary short, sponsored by Carhartt shows, Momoa's greatest passion is being a father.
Momoa's life is what many would describe as bohemian: Born in Hawaii and raised in middle America, he latched on to physical activity and artistry to find his purpose. He traveled the world. He became an actor. But he views everything he's ever done as simply part of the path that's led him to a singular goal: having children.
In the documentary short, Momoa explains that his mother introduced him to climbing, art, and skateboarding. As these pursuits propelled him in such a positive, unconventional way, he passed these hobbies down to his children. In the film, shots are interspersed of him climbing rocks with one of his children and skateboarding with another. Other shots show his kids playing on the drums to a crowd of Momoa's friends. They laugh and hug and play. He gleefully refers to his children as "feral," as they're wild kids who know how to sew and climb and skate.
But Momoa doesn't just introduce his children to these activities because he's a free spirit who values outdoor time and living in the semi-wilderness. Rather, the activities that defined his childhood gave him a mental fortitude and health that he wants to pass down to his kids.
"Climbing made me face my fears and my doubts, explore the impossible, problem-solve through movement," he says. "I learned to trust my hands, find my feet. I found balance."
Climbing, Momoa says, ultimately brought him to acting, a career he has been successfully pursuing for the past two decades. "For an anxious young man, it finally allowed me to be everything that I wanted to be." Acting brought him purpose and it brought him to his wife, Lisa Bonet, who brought him to his future children.
"Ever since I was a little boy," Momoa says in the video, "I have always wanted to be a father." It's obvious that this was his goal all along: Even though he struggles with being away for long periods of time from his family, they are what keeps him going and grounds him. They are the culmination of his life's work. Well said, Khal.
Watch the Carhartt video here.
This article was originally published on