The 6 Most Powerful Moments From CNN's Town Hall on Gun Violence
The debate was, unsurprisingly, a raw, impassioned affair.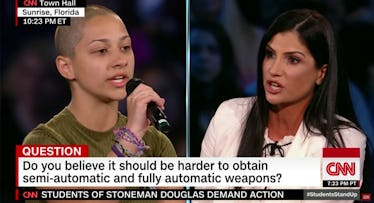 CNN
One week after 17 people, mostly students, were gunned down at Marjory Stoneman Douglas High School in Parkland, Florida and as a heated gun-control debate continues to rage on, CNN hosted a handful of students, teachers, and parents for a Town Hall. The individuals sat down to discuss gun control with Senator Marco Rubio, Senator Bill Nelson, U.S. Rep Ted Deutch, NRA Representative Dana Loesch, and Broward County Sheriff Scott Israel. Moderated by Jake Tapper, the event, which lasted nearly two hours, was, unsurprisingly, one the rawest and most passionate debates in recent history. It was also one of the best. Here are six powerful moments from a debate that had no shortage of them.
When Stoneman Douglas Junior Cameron Kasky Asked Senator Marco Rubio If He'd Stop Taking NRA Money.
Kasky asked Rubio: "Can you tell me right now that you will not accept a single donation from the NRA?" Rubio did respond, but not to the question Kasky asked. Instead of talking about the NRA and the 3.3 million dollars in campaign contributions he's received from them, he said: "I can pledge to you that I will support any law that will prevent a killer like this getting a gun."
When one parent called Senator Rubio and President Trump's response to the shooting "Weak."
Fred Guttenberg, whose daughter was shot in the back as she fled from the gunman last week, was one of the first to question the representatives on the stage. Guttenberg asked: "Senator Rubio, I want to like you. But here's the problem. Your comments this week — and those of our president — have been pathetically weak. Look at me and tell me guns were the factor in the hunting of our kids in this school this week. Look at me and tell me you accept it and you will work with us to do something about guns."
Pretty much every time time Dana Loesch Spoke.
Dana Loesch may be most popularly recognized for an NRA ad where she tells "liberal america" that "We" are "coming for you." The 90-second spot Hollywood, public schools, and mainstream media for indoctrinating kids into protesting against guns. She was on the stage last night to represent the NRA and it's four million members. Nearly every time she spoke, she had to contend with not only the anger of the person she was speaking to, but that of the whole audience.
When Emma Gonzalez refused to make the conversation about mental health.
Stoneman Douglas student Emma Gonzalez made headlines this week when she gave a speech, through tears, that did nothing less than stake her claim in not only the conversation about gun reform but also that youth deserve to be a part of the decision making about the things that affect them most (and while saying, "We call BS."). Last night, she asked Dana Loesch whether or not she supported legislation that would ban assault rifles and bump stocks. When Loesch tried to make the conversation about mental health by referring to the shooter as "nuts," Gonzalez responded that her question was not about mental health, but about guns.
When an AP History Teacher at Stoneman Douglas Gave Dana Loesch A Pop Quiz
One AP History teacher at Stoneman Douglas took it upon herself to ask Dana Loesch about the specifics of what a "well-regulated militia" was with "supporting evidence." When Dana said that that means that it is any man or woman who can operate a firearm, the teacher responded that response was only accurate in the context of the time the constitution was written. When pressed further, Dana Loesch responded by saying that he shouldn't have been able to get a firearm.
The Parkland Students Performing Their Song "Shine"
Parkland students wrote and performed a song, "Shine," to close the program. The lyrics read, "We're putting up a fight/You may have brought the dark but together we will shine a light/And we will be something special/We're going to shine, shine."
This article was originally published on