The 50 Best Places to Work For New Dads 2018: IBM
Our list of 50 Best Places to Work For New Dads in 2018 recognizes companies with exceptional paternity leave and benefits programs.
by Fatherly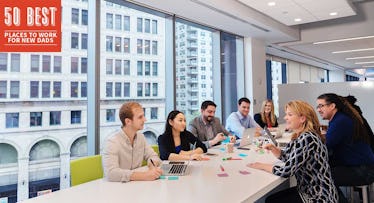 IBM
Fatherly's annual "50 Best Places to Work for New Dads" ranking is a celebration of corporations committed to helping men manage their dual roles as providers and caregivers. Though only one company can be ranked number one, every company featured has provided real support for working parents with exceptional and thoughtful offerings.
IBM
Rank: 7
2017 Rank: 40Full-Time Employees: 366,000
NY-based IBM remains at the forefront of computing research, pioneering new A.I. and cybersecurity technologies while investing in blockchain and quantum computing. In 2017 alone, the company filed more patents than any other US company, some 9,043, continuing a 25-year streak. The company also remains forward-looking on all things family. In October 2017, the company increased paid parental leave for its 380,000 full-time employees from 14 to 20 weeks for birth mothers and doubled paid parental leave for dads, partners, and adoptive parents to 12 weeks. Parents can take the allotted leave any time in their child's first year.
IBM also provides on-site child care at several of its larger locations, making the transition back to work and the years before preschool that much easier to manage. In addition, the company offers an adoption and surrogacy assistance plan that reimburses those who want to or have had children via IVF, adoption, or surrogacy up to $20,000 as well as a "Our Special Care for Children Assistance Plan" which reimburses employees up to $50,000 for applicable services for children with mental, physical or developmental disabilities. A robust flextime policy rounds out its parent-friendly perks.
Fatherly's 2018 rankings are based on a scoring metric inclusive of data related to company policies on the following issues: paid parent leave, ramp-back time, flextime, onsite childcare, childcare subsidies, backup childcare, number of sick days, support groups, fertility aid, adoption aid, student loan assistance, education funding, bereavement leave, elder care planning. Length of paid leave, onsite childcare, and ramp-back time were the most heavily weighted ranking factors.
This article was originally published on