How to Plan a Sex Vacation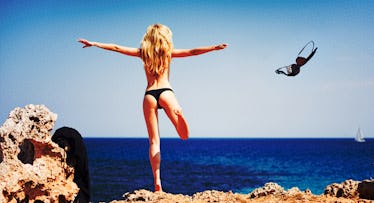 There's a reason why Toronto's Drake Hotel has sex toys listed on its room service menu. Or why more and more resorts are starting to offer clothing optional cabanas and pools. Vacations are a perfect place to set the mood for sex. According to Expedia's 2018 Heat Index Survey, more than half of respondents say they're more intimate with their partner or spouse on vacation than at home. This is doubly true for parents who have the opportunity to steal away for a weekend without the kids. Of course, life being what it is, you can't just expect everything to unfold in your favor. You have to plan ahead. Here, then, are some things to keep in mind next time you and your partner want to get away from the kids and do more than just sleep.
Chose The Right Setting
According to the Heat Index, the majority of Americans head to the beach when they want to get it on. A smaller percentage prefers the city. "Consider what places feel sexy to you and your partner and what locations have been sexy destinations for you in the past," says Brianna Rader, a sex and relationship educator and founder of the Juicebox Sex & Relationship App. "Also, remember that you don't have to travel far. A staycation at a local hotel can be a great way to reconnect without the stress."
What Type of Parent Are You? TAKE THE QUIZ!
Make Sure It's Sex-Friendly
The last thing you want to do when trying to amp up the intimacy is stifle the romance. Keep that in mind when figuring out the amenities. "Avoid family resorts," says Rader. "Opt for accommodations that have a more adult feel. Choose a place where you won't mind hanging around the room. This may mean splurging for a little more space or upgrading to a king-sized bed."
Pack Some Fun Stuff
If you use sex toys at home, why not use them on vacation? A lot of places now offer "pleasure menus" on their list of amenities. Of course, you can always bring what you have at home. Lube, condoms, and other sex necessaries should also find their way into your luggage.
Disconnect From Life at Home
"You're on vacation for a reason, so do your best not to worry yourself with checking emails, taking business calls," says Facey. In other words: keep the outside interference at a minimum. It will give you and your partner a better chance to connect, and keep your mind on the goal of good sex. If you absolutely need to log on, try setting a specific time to do so. That way, you won't feel the need to reach for your phone during the fun stuff.
Stay on Target
It's easy to get distracted from the task at hand when confronted by resort offerings. "A common mistake is to pack in too many activities, leaving little time for intimacy," says Rader. "Even if you pick a place for sightseeing, plan some downtime. If you like morning sex, plan to get food delivered to the room and enjoy a leisurely start to the day. You can also plan a midday siesta or an early night after a light meal."
Prepare For the Unexpected
Booking a romantic getaway is exciting, but remember, life tends to happen when you have other plans. "Allow some flexibility," says Rader. "You may end up with a stomach bug that has you feeling un-sexy. It's important to communicate expectations up front and also adapt if the situation changes or your partner isn't feeling in the mood." In other words: You can still have a great trip even if it ends up being less focused on sex. "Feeling relaxed, connected, and present for each other can be just as rewarding," she adds.
This article was originally published on