Growing Up Black Remains Hard as Hell
A new study reveals that black kids are still faced with more obstacles than their peers and we should be working to level the playing field.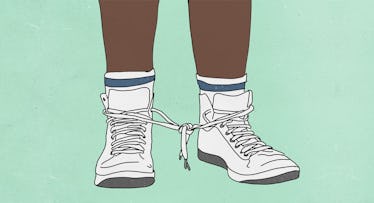 Researchers for the nonprofit Annie E. Casey Foundation have just released their annual Kids Count report looking at data related to growing up in the United States. And, in almost every key indicator of child well-being, including poverty, education, and access to healthcare, the report shows a disproportionate number of black children facing significant barriers. The numbers are a stark reminder of how America continues to leave black kids behind and how much work we should be doing to help level the playing field.
Some of the starkest findings of the Kids Count report are related to economic burdens black families continue to face, even as much of the country continues to view the great recession as just a bad memory. Despite the economic recovery, 34-percent of black children are growing up in poverty. That's over double the national average of 19-percent and triple the poverty rate of white children, 12-percent of whom are growing up impoverished. Even more damning is the fact that 30-percent of black children are growing up in high poverty areas, which is six times the rate of white kids, only 5-percent of whom are growing up in impoverished communities.
There's a reason that poverty of children of color feels so intractable: 43-percent are growing up with parents who lack a secure income. That's a huge problem considering 45-percent of those parents are struggling with the burden of high housing costs. Again, those rates are double those of white kids.
There is some good news in terms of early education, as black children have higher rates entering school at by 3 or 4-years-old. But even with that head start, by fourth grade they are nearly twice as likely as white students to struggle with reading proficiency, a trend that continues at eighth-grade as well. By the time they reach high school, nearly a quarter of black children will fail to graduate on time, compared to 12-percent of white students.
The only place where there appears to be a semblance of equity between racial minorities and their white peers is in healthcare. Happily, the percentage of kids without health insurance is in the low single digits for almost every ethnic minority, except Native American children.
This bright spot of healthcare is likely due to the Childhood Health Insurance Program (CHIP) and the Affordable Care Act, both of which help low-income Americans obtain health care for their families. But neither program is particularly loved by the majority Republican party in Congress who have made significant efforts to weaken both programs.
Also, it should be noted that despite relative parity in healthcare, black teens die at higher rates than any other ethnic minority — 38 per 100,000 kids. And that's more likely due to violence than it is to issues like drugs. After all, black teens are reported to use drugs no more frequently than white kids.
Such stark data about the childhoods of black children can offer new context to America's increasingly complex conversations around race. With such abysmal poverty rates for minorities is it any wonder that black folks continue to press the fact that black lives matter? And if they really did matter to Americans would the data on growing up black look so bleak?
So what's to be done with all of this bad news for black kids? Well, the most logical solution is to vote for politicians who have a track record of supporting social programs that help give people a leg up out of poverty. That means continuing to strengthen programs like the Affordable Care Act and CHIP. It means supporting a minimum wage that provides a livable income and housing initiatives that make living more affordable. It also means strengthening the public school systems in high poverty areas to help improve educational outcomes which continue to be the path towards a higher median income.
In the end, a country can only be as good as those citizens who are most in need. And until we start really addressing the needs of black kids, America will continue to fall behind the rest of the world.