How to Have Great Sex With a Large Penis
A few things to keep in mind if you're very well endowed.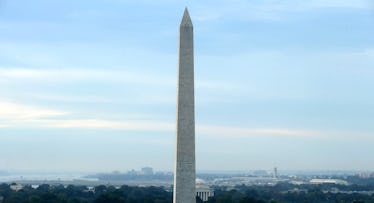 The phrase "be careful what you wish for" doesn't typically apply to the penis, but maybe it should. Though the anxiety attached to the idea of having a small penis is often unfounded, it is incredibly common. Back in 2006, a group of researchers decided to measure just how far this kind of penile paranoia extends. They surveyed more than 52,000 individuals. While almost all female participants reported they were satisfied with their partners' size, just about half of all guys surveyed felt they were too small for their own good.
But fantasy often exceeds reality. As the authors of the study concluded, "Men's concerns about penis size are fueled by cultural messages equating penis size with masculinity." And, as almost anyone who's ever been on the receiving end of penetrative sex can attest, internalized constructs concerning masculinity does not a good lover make. The truth is, a large penis can actually complicate the ability to engage in what some would consider "good" sex. Certain things are off the menu. Like the "fast and hard" approach. But where there's life, there's hope, right? Listed below are a few ways to have great sex when you have a larger than average penis.
Don't Ignore Foreplay
"Most people with vulvas need 10-40 minutes to be fully aroused," explains sex educator Kait Scalisi. That window allows the vagina to go through a process called "vaginal tenting," meaning it gets longer, wider and wetter. And that makes taking a big penis a whole lot easier. Besides, more foreplay means more of a chance for your partner to experience orgasm before penetration, leaving their body more relaxed, and more open. "I recommend warming up with fingers," adds Charlie Glickman, a certified sex coach. According to Glickman, this approach is especially useful for anyone with a wide penis, which can stretch the vagina beyond what's comfortable.
Find The Right Position
If you have a large penis and haven't tried sex while spooning, you probably should. "A long penis may hit the cervix which doesn't feel good for some vulva-havers," says Scalisi. "Spooning is great for this since it offers shallower penetration." Scalisi also recommends the woman-on-top, or "cowgirl," position. "Not only does the person being penetrated control the depth, it also pulls the pelvis of the person with a penis down a bit, making it feel like there's less length to take in," she explains.
If those don't do it for you, you can always try getting creative. "You can play around with positions so you don't go all the way in," says Glickman. "One way to do that is if she is on her back with her butt close to the edge of the bed. Depending on where she's positioned, the bed can actually create a bit of a bumper." During missionary, he suggests she drop her knees down to her chest. "That way, her legs can prevent how far he can go."
Entertain Alternatives
As it's been said, good sex does not begin and end with the penis. If your size is causing her discomfort during intercourse, then try entertaining some other forms of fun. "If you can get hard quickly after ejaculation, ask your partner to get you off first using their hands or mouth," says Scalisi. "Your second hard-on is always a little smaller." There's also mutual masturbation. "Lay together and touch yourselves. It's super sexy, intimate, and often faster than having intercourse," she notes.
Stop Before It Goes Too Far
While self-control is an important skill to hone, it's not always easy to practice during sex. If "going all the way" causes your partner any pain, you can try entering her, only up until a point. If you think you can exercise that level of discipline during sex, go for it. If not, try accessorizing. Come Close is a British-based company specializing in sexual accessories designed to "limit the depth of penetration during sex." Their protector ring rests at the base of the penis, creating a space between you and your partner. If you're at all skeptical, then try checking out the testimonials. According to the customers, it's well worth the cost.
This article was originally published on