How the Four Roses Bourbon Master Distiller Stays Balanced
It's a routine that keeps him in shape, lets him see the small beauty of his town, and helps him be a calmer, more connected dad.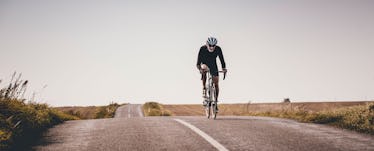 Welcome to "How I Stay Sane," a weekly column where real dads talk about the things they do for themselves that help them keep grounded in all the other areas of their life — especially the parenting part. It's easy to feel strung-out as a parent, but the dads we feature all recognize that, unless they regularly take care of themselves, the parenting part of their life will get a lot harder. The benefits of having that one "thing" are enormous.
For Brent Elliott, a father of two from Frankford, Kentucky, and master distiller of Four Roses, cycling is his escape. He hopped on the saddle five years ago to train for a triathlon, and it quickly became a part of his weekly routine. It helps him stay in shape, sure, but also to stress and see the small beauty of the world around him. That, he says, helps him be a better, more connected dad. Here, Brent explains why cycling is so important to who he is.
I've probably been cycling for maybe five or six years. If it's warm enough outside, I'm cycling outside. I love to be out on the open road. I live in a rural area, so I have nice country roads to cycle down. But typically from November to March, I do lot of indoor spinning, watching tv, cycling in place.
Five years ago when I started, I was running a lot and swimming some, and I had a group of friends. We were talking one day and decided to try a triathlon. Cycling was the missing piece, but I've really come to find out that cycling is the most fun of all three of those exercises. I still run more than I cycle, but I had one friend in particular who is really big into cycling and he really talked us all into it.
I wasn't surprised that I took to cycling. I used to bike a lot before I had a driver's license as a kid. I grew up on bicycles. I wanted independence, to be able to go wherever I wanted to. I'm from Owensboro, Kentucky, which is a town that at the time was like, 15,000 people. It was a pretty small town. But I wanted to be able to go wherever I wanted. I had an old ten-speed and I rode it everywhere. Once I hit 16 I probably didn't get on a bike again until five or six years ago, so I was excited to get back into it.
My favorite place to ride is to go out near Midway, Kentucky. The best way to put it is horse country. They have these rolling hills that are physically challenging and beautiful and have miles and miles of roads back amongst the horse farms. The beauty, the backdrop, the scenery, the challenges, up and down, all those hills. If there were a cycling video game, where you can choose different sites when you're on a stationary bike, this would be one of the options. It's that picturesque and pretty.
Sometimes I'll start riding and I'm still kind of wound up, or my mind is still in work mode, or focusing on stressful things in my life. But something about the exertion and the time spent and the scenery, I just get focused in on the activity and everything else just drifts away. My mind just kind of drifts. It's therapeutic, and it's good to get in that zone, where I shed all those unnecessary stresses and thoughts. It's lasting, too. Once I finish, I always feel good and sleep better.
It clears my head. Also, for the last couple of years, I've been involved in a big bike ride that happens in the fall called the Bourbon Country Burn, where hundreds of riders come together and over the course of an entire weekend, ride to all the distilleries. It's a lot of fun. It brings a lot of good people together. A lot of my cycling now is just trying to train to be in cycling shape to be able to handle the long rides that are associated with that event.
I'm a big guy. I'm 200 plus pounds, so I'm not competitive. But I just do these things to stay in shape. It's something to do. And I enjoy it. When I finish my ride, I'm immediately happy to be done, because I push myself. I feel accomplished, and physically I feel good. Getting my blood flowing makes me feel more alert and in tune with the world. I feel satisfied and I have a sense of accomplishment.
This article was originally published on