Florida Passes Bill Halting Gun Sales to Teens, Training Teachers to Shoot
The bill also delivers big on mental health funding.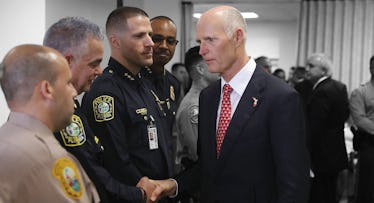 GETTY
In a bi-partisan vote, Florida lawmakers have moved forward with a $400 million dollar bill intended as, in part, a response to the the Valentine's Day shooting at Marjory Stoneman Douglas High in Parkland, Florida. Governor Rick Scott has yet to sign off on the bill, but will face enormous pressure to do so from both Republicans and Democrats. The legislation reflects the priorities — different, but not necessarily at odds — of the two major parties.
The bill, which passed in the legislature with a vote of 67-50, raises the minimum age in the state of Florida for all gun purchases from 18 to 21. The law before the change allowed anyone over the age of 18 to buy guns of any kind. The new law includes sales at unlicensed gun shows, which have been discussed as a major loophole in guns sales in the country. The bill also creates a three-day waiting period or a mandatory background check before purchasing a gun (there are exceptions for military personnel) and bans bump stocks, which help rifles fire at higher capacities.
The ban of bump stocks was supported by the NRA, and has been discussed on a federal level after the Las Vegas shooting in which Stephen Paddock used the tool to kill 58 people last July. This is the first time meaningful legislation has been passed to that effect.
More controversially — and over objections voice on social media by Parkland survivors — the bill moves to help arm certain school personnel who volunteer for the program and are not full-time classroom teachers. That part of the bill takes $67 million dollars of the funding and also requires volunteers to take 12 hours of diversity training.
Other measures include increasing funding for school resource officers, expanding mental health services to students, providing police with the authority to remove guns from people who are undergoing involuntary psychiatric evaluation, and making it harder for people with histories of institutionalization to get access to guns.
For as much as the bill delivers on, it fails to provide meaningful legislation in a few major areas, most notably the sale of AR-15 assault rifles. The bill also failed to ban high-capacity magazines or improve background checks.
This article was originally published on