Florida Moves Forward With Bill Deputizing Gun-Toting Teachers
The bill, which has not yet been passed and also includes provisions for waiting periods and mental health services, rings to the tune of $67 million dollars.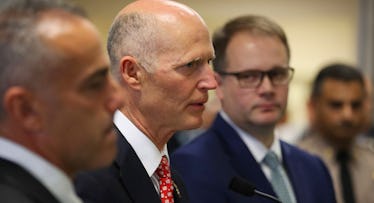 Gov. Rick Scott of Florida. GETTY
A $67 million dollar piece of legislation that would incentivize teachers to take part in a voluntary "School marshal" program that would allow teachers to carry gun was approved by the state's House Appropriations Committee 23-6 on Wednesday. The bill, which has yet to pass Florida's House and Senate, seems to be gaining momentum despite numerous calls from family and friends of the victims of the Parkland school shooting for gun control and polls reflecting a national desire for limits on the sale of automatic weapons. If approved by representatives, the bill will land on the desk of Governor Rick Scott, who has previously opposed the idea of arming teachers.
The bill — which includes a provision ending the sale of firearms to anyone under 21 — funds a program that would train teachers and school staff to carry concealed weapons on elementary and high school campuses in the state of Florida. In order to participate in the program, teachers and staff will commit to the 132 hours of training needed to become a deputized marshal and would receive a one-time $500 dollar stipend for participating.
While this bill may not pass, it echoes Republican action on gun control and school safety that has whipped up a flurry in the past week. The Republican congressman have floated the idea of a national tax credit that would incentivize unemployed volunteers with guns to offer their services as school security, essentially opening the door for unemployed people with weapons to spend time at playgrounds. While that would keep guns out of classrooms, it would ensure that they remain near schools.
Besides raising the minimum age to own a firearm to 21, the Florida bill mandates a three-day waiting period, increased school safety funding and provisions for mental health care access.
This article was originally published on