Recall Policies Should Change After the Rock 'n Play Sleeper
The Fisher-Price Rock 'n Play Sleeper has been recalled, but parents who love it likely will keep using it until being told what to do instead.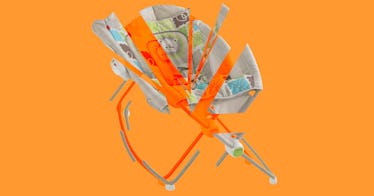 Fisher-Price has recalled nearly five million Rock 'n Play Sleepers, the vibrating bassinet-seat hybrids linked with the deaths of 30 babies over the last decade. The voluntary recall came only after the American Academy of Pediatrics (AAP) argued that continued availability of the Rock 'n Play would put babies at grave risk and that the U.S. Consumer Product Safety Commission (CPSC) safety warning was not strong enough. Despite the recall, many parents are vowing to keep using the sleeper, which they consider a valuable parenting tool. The mixed feelings and debates sparked by Rock'nPlayGate are indicative of the danger of a recall system that is built to warn, but not to teach.
Teaching is key when it comes to the safety of baby products, many of which have very specific uses. In the case of the Rock 'n Play, the specific use was to help a baby "soothe and snooze in comfort while the inclined sleeper gently rocks on its own all night long!" according to a product description from January 2018. Unfortunately, it should never have been used for that purpose because that's not how babies should sleep. Parents used it that way anyway. Why? Because parenting is hard and the Rock 'n Play works to get kids to sleep, thereby offering some relief. More broadly, as Jessica Winter points out in The New Yorker, the Rock 'n play came highly recommended with near cult status among parents.
Make no mistake, there are dangerous baby products and many stay on the market. Parents can still buy an infant walker that looks like Ford F-150 Raptor from Bed Bath & Beyond despite the fact that the AAP has called for a ban on infant walkers. Not only do they not help a child learn to walk, but they also have a nasty habit of teaching children how to fall down stairs. Still, they are used by some parents because they offer child mobility and keep them from crying when a parent walks away. Parents ignore the guidance because they deem their use case or the risk acceptable.
It's notably that walkers are still on the market given their specific recall history. One such recall of 50,000 baby walkers occurred in 2002 when several models of a Bikepro Inc. walker were linked to deaths from infants falling down the stairs. Another 8,400 walkers imported by Suntech Enterprises were recalled in 2010 for being able to fall down stairs. While one might assume that would have meant the end of walkers in general, they remained on the market and continue to be used. Part of that is because when the walker recalls were issued the CPSC did not offer guidance that walkers should not be used at all to teach babies to walk but simply stated the specific walkers in question should be returned because of design flaws.
And that's the core of the problem. In terms of baby products, the current recall system mainly just tells parents what not to use with their baby. But that insight should also come with reasons why and guidelines for a better way to handle the problem the product solved. And that doesn't seem like the most difficult fix. The AAP is primed to help the CPSC. They already have a habit of working with government agencies around other issues related to child safety, such as providing guidance on the nationally recommended vaccine schedule.
Until the CPSC decides to become as invested in education as it is in warnings, we'll like to continue to see parents willing to cling to products that are dangerous. In the case of the Rock 'n Play that is exactly what's happening. Consider the "remedy" offered for the Rock and Play on their recall website: "Consumers should immediately stop using the product and contact Fisher-Price for a refund or voucher." And then what? Find some equally dangerous way to help a baby sleep? How else is the child going to "snooze in comfort?"
The danger of the Rock 'n Play comes partly from the way the product is used and partly from the way it is designed. The angle of the sleeper and the fact that it's made of cloth means that babies can shift and become entrapped and suffocate on the sides. This risk is higher for older children who can roll, but even infants who are unable to roll have died in the sleeper. And according to the AAP parents should never look to anything other than a bassinet or crib for infant sleep. Babies should only be put to sleep flat on their backs on a firm mattress with minimal bedding. But parent's are being given that guidance by the CPSC. They need to find it elsewhere outside of the context of the recall.
What the CPSC has done in the recall of the Rock 'n Play is not terribly helpful to parents who feel they are losing an important tool in their arsenal. Kids will continue to be injured by dangerous products like these until parents are given not just a warning, but a better way.
This article was originally published on