The Fatherly Questionnaire: Colorado Governor Jared Polis
Jared Polis is about to become the first openly Gay governor in America. His priority? Early childhood education.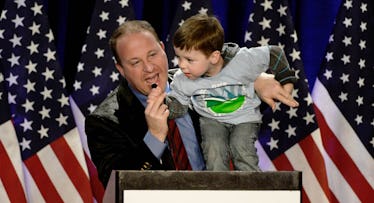 Today, Jared Polis represents the 2nd District of Colorado in the United States House of Representatives. Next year, he'll be sworn in as the governor of Colorado. That'll be a big change, but he's already led a pretty remarkable life. Born a mile high, Polis turned his family's small greeting card and publishing company, Blue Mountain, into an online greeting behemoth that sold for $780 million in 1999. He then founded ProFlowers.com, an online florist, which he sold in 2006 for $477 million. He took the money, started a foundation, founded two charter schools, and, in 2008, turned his passion for education into a political career as a United States congressman. Now, he'll be America's first openly gay governor. And he'll tackle that job while looking after his kids.
As Governor, Polis will continue to push for family-friendly policies. During his candidacy, Polis pledged to create a universal full-day kindergarten and preschool program capable of reaching every community in the state within two years. He claimed from the stump — quite rightly — that access to early childhood education programs closes achievement gaps and helps ensure healthy development. No wonder a lot of parents voted for him.
Earlier this year, Polis took the Fatherly Questionnaire at his office in Boulder.
What is your name?
Jared Polis.
Occupation?
I'm a member of the United States Congress from Colorado.
Age?
I'm 42.
How old are your children?
Our son is five and our daughter is three.
What are their names?
Caspian and Cora
Are they named after anyone in particular?
In the Jewish naming tradition, we often take a first letter of a name of a family relation or a deceased relative. For instance, Cora's middle name is Barucha, which means blessing in Hebrew. It is also the Hebrew equivalent of Barack, which means blessing in Arabic. She is named after Kasha Barucha, a great aunt.
Do you have any nicknames for your children?
Because they are small, they can't quite say each other's names. Before Caspian could say his name he called himself CJ so we do too.
What do they call you?
Daddy.
How often do you see them?
Everyday when I'm home in Colorado, but I have to work in Washington about half the days of the year. I spend maybe 140 days a year out of town. When I'm in D.C., I rely on the wonders of Facetime and Skype. When I grew up, video conferencing was some fancy expensive thing you read about. Now my kids are disappointed by a conversation without video.
Describe yourself as a father in three words.
Goofy, creative, funny.
Describe your father in three words.
Amazing, inspirational, and ethical.
What are your strengths as a father?
My dedication to my kids' education. That is colored by my professional work in education. Also, I'm able to just have fun.
What do you think are some of your weaknesses as a father? What is your biggest regret?
I'm not always the most emotional and communicative person. I'm not the kind of father that's necessarily good talking at emotions or feelings.
What is your favorite activity to do with your children?
With Cora, it's physical activity. She loves playing catch or wrestling. With Caspian, it is more gaming. I'm a gamer and our son loves games. So we play Pokemon Go together. Less so now, but we would battle in gyms and catch rare Pokemon.
What has been the moment you are most proud of as a father?
Our son is really talented at music. Actually, it is another regret of mine. I don't know music and neither does my partner. I don't know how to play piano and I can't read music. We try to support Caspian as best we can, but we have to hire a piano teacher. But he is extremely talented and I'm very proud. Cora is just such a happy kid and a big goofball and really physical and she's great.
What heirloom did your father give to you if anything?
One thing my father gave to me from when he was a kid was a stamp collection. It is a little book from the late 40's or early 50's full of stamps. There's a big gap in the collection and then I added my own in the 1980s.
What heirloom do you want to leave to your children?
Certainly the stamp collection. That way they can add stamps from the 2020s, if stamps even exist by then.
Describe the "Dad special" for cooking?
I love cooking and so I try to mix it up a lot. I do use lentils a lot and the kids love them. Obviously, the classic pizza on english muffin recipe gets used a lot.
Are you religious and are you raising your kid in that tradition?
I was raised Jewish and my partner and I both belonged to a conservative Synagogue. I would expect the kids will be bar or bat mitzvahed as well.
What was a mistake you made growing up that you want to ensure your children do not repeat?
I wish I learned music or even another language. I speak passable Spanish. But, we are beginning Spanish with our kids very young so they are fluent in it. Generally, I had a great childhood so I can't think of too much I would want to change.
How do you make sure you let your kids know you love them?
I say 'I love you.' That's a big one. We certainly do that. Some of their first words were to say 'I love you' and that's how we end every Facetime. I also make them part of my professional life too. Casper and Cora come to the office and the staff loves seeing them. They get to see all the important parts of my life because they are important parts of my life too.