Comedy Central's Nikki Glaser On Grilling Her Dad About His Sex Life On National TV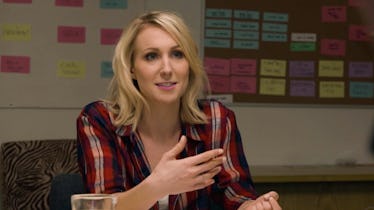 You might know Nikki Glaser as the stand-up comedian who has killed on The Tonight Show, Conan, and Last Comic Standing. Now, she has her own Comedy Central show called Not Safe With Nikki Glaser. In it, Glaser explores her "curious perv" side by doing things like subjecting her wholesome Midwestern parents to a polygraph about their sex life on national TV.
From the early days, EJ Glaser was his daughter's biggest fan and supported her decision to be professionally funny — he just didn't know that one day they'd be having a chat about penis length before a live studio audience. Here's how Glaser says her dad helped her get to where she is in her career, and how he offered her the perfect words of encouragement to an aspiring comedian.
On Influencing Her Sense Of Humor
"My dad is good at talking shit about people and making fun of them, which is one of my family's favorite past times. We can be very mean together, but it's always behind closed doors, so no one gets hurt. He was a big Seinfeld fan early on, so I was always obsessed with that. He also got me into Late Night with Conan O'Brien, which was life-altering in terms of how new and funny it was."
On Supporting Her Starting Stand-Up Career
"I was 19 and the first time I performed at my college in Colorado. There was a talent show on campus and my friends told me I should try doing stand up on it. My best friend held her cell phone up during my set so that my dad could listen from St. Louis. I called him as soon as I was done and we both cried because I realized in that moment that it was what I wanted to do with the rest of my life. It sounds very cliche, but only because it was."
On Hearing About Your Dad's Sex Life
"We surprised them with the lie detector, so they were shocked but really great sports. My dad knew what he was getting into by agreeing to be on the show. It was humiliating asking him the questions that me and my show writers had written. In the writer's room it's all fun and games, but when you sit across your dad and ask him if he's ever heard you have sex, that is a moment in my career that I'd like to forget."
On Being A Good Sport When She Embarrasses Him
"I had to call my dad after to ask if it was okay to air something about him that happened during the studio taping of my show. Another comedian, Bridget Everett, had taken a piece of info from the lie detector segment — the fact that I made my dad admit that he had an above average penis — and made it into a chant about him and his member. He took it in stride and although was not excited about having an audience of people chant 'HORSECOCK GLASER,' he signed off and let me air it because he will do anything to help me and my show. He sent me a text after watching the clip I sent him and said 'Horsecock says, run with it.' He's a good dad."
On Giving The Right Words Of Encouragement
"My dad is a smart person and although it's probably not easy to hear his daughter talk about sex, he knows that this is what makes me the entertainer that I am. I need to be honest. He once told me that I reminded him of Howard Stern because of how open and curious I am, and that meant more to me than just about any compliment I've ever gotten about my stand up."
On The Gross Subject Of Grandkids
"The worst part is that their friends act weirdly to them about it. My parents are mature and smart. They aren't in denial that I have a sex life. It just perplexes some people that 2 adults could be comfortable hearing about their daughter's private life. But the thing is, we all know that our children have sex when we get grandkids! How is that any different? When you tell your dad that you're pregnant, you're essentially saying, 'Dad! Chris ejaculated inside me!'"
This article was originally published on