My Father the Jazzman
"It's nice to have a father that everybody liked — I got used to that."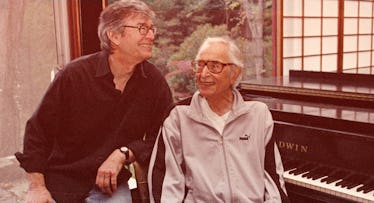 The son of Dave Brubeck and jazz musician in his own right Darius Brubeck talks about leaning into his father's legacy. Darius will be on tour in the UK in January. He and his wife, Catherine, are currently writing a book together about their years in South Africa. He regularly performs with The Darius Brubeck Quartet and Brubecks Play Brubeck, a trio he formed with his two brothers, Chris and Dan.
My father grew up on a 38,000-acre cattle ranch in Concord, California, believing he would always be a rancher like his father. I think there's something very affirming about that. This modest man, who expected to spend his life as a cowboy, was on the cover of TIME magazine before he was 35 and on White House guest lists through several presidencies.
I had a sense of my father being a public figure when I was a kid, but it took me some time to understand how people knew him — that he was a famous jazz musician. I didn't really know how famous he was for quite a long time. Society was changing, modernizing, and urbanizing, people were moving into cities. Jazz was still a very big part of popular music and liking Dave Brubeck was a generational thing tied in with post-war optimism, affluence, culture, and education.
Eventually, I became a musician too and we played together as the New Brubeck Quartet. It was the 1970s and I was in my mid-late twenties. I got to meet Louis Armstrong, and Dizzy Gillespie, and many of the legendary people that were part of my father's milieu.
At the time, I was messing around with electric keyboards, trying to establish a recognizable style and sound that was my own. Whether or not I did is moot. The older I got and the better I got, the more I focused on piano and therefore sounded more like my father. Sometimes when I listen to tapes of concerts we did together — even though my musical memory is pretty good — I'll still briefly wonder who's playing. Is it Dave? Is it me?
It's nice to have a father that everybody liked — I got used to that. I stopped resisting the strong identification with Dave. I think it's great in a way to inherit a repertoire and a good reputation and all I have to do is not mess it up. Naturally, I've added a lot of my own music, but the platform was there.
I'm happy to meet people and sign CDs, and Dave used to do this too. They'll say something like: "Loved your concert" followed by, "I saw your father" and then show me an old program or a signed LP. This became sort of a cliché within the band. "How many 'I saw your father's were there tonight?" What is interesting to me is that fans feel it's important to tell me and they like to prove it by showing me a signed program or an old LP, usually "Time Out" or "Dave Brubeck at Carnegie Hall". It's not just sentimental nostalgia, it's a way of showing that they 'got it' and they still do. I wrote a tune for my latest CD, "Years Ago," called, "I Saw Your Father."
— As Told To Lizzy Francis