After El Paso, Texas Set to Weaken Gun Storage and Carry Laws
The move comes despite evidence showing that safe gun storage laws save children's lives.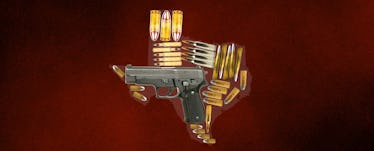 In less than one month after 22 people died in a mass shooting in an El Paso Walmart, the Texas legislature is set to loosen their gun laws, already among the most lenient in the nation. The ruling has long been in the works and, while in many states, a mass shooting would likely pressure politicians to put an end to weak gun laws, this is Texas. Gun culture is strong here. How strong? Just look to this wildly ill-timed (and out of touch) piece of legislation.
The law is set to a do away with a number of restrictions, including: Allowing concealed carry or open in churches, synagogues, and other places of worship; not letting landlords add a 'no firearms clause' in leases; giving license for unlicensed gun carriers to take weapons when fleeing an ecological disaster; and, perhaps most befuddling, lifting laws on storage-safety rules for guns on school campuses and in foster homes.
That's right, Texas specifically calls out foster homes as a place that could use less restrictive gun safety rules.
To be fair, Texas already allows foster parents to keep firearms in their homes, but only if they follow basic safe storage laws, like storing ammunition and guns in separate locked boxes. Starting September 1, ammunition and guns will be able to be stored together in the same location. This weakening of safe storage laws is dangerous — and thus opposed by such Second Amendment–backing organizations as the National Shooting Sports Foundation. The NRA, ever on the side of extreme gun rights, responded to the law's passage by stating that this is "just the first step" toward giving foster parents their Second Amendment rights back.
It's also a clear step toward putting foster kids in danger. There are 30,000 kids in Texas in the foster care system, and many of those kids come from homes where they experienced physical, emotional, sexual abuse, witnessed or partook in drug abuse, and were neglected by their biological parents. Eighty percent of foster kids experience rates of diagnosed mental illness and are medicated at higher rates than kids who have not been put in the system, which amounts to some 18 to 22 percent of kids. Foster kids have complex emotional and mental health needs, and making guns and gun ammunition easier to access is not an intervention tactic like access to therapy or getting in front of a school counselor or having a supportive, loving home.
One-third of foster kids, who are often already escaping neglectful or abusive homes, report being abused in foster care. Experts believe that the number of kids actually abused is far higher because many foster kids are discouraged from speaking out about their abuse or are silenced.
In 2017, explosive reports about MENTOR, a massive for-profit private foster care system, revealed that children die at alarming rates in private foster care homes as well. Over a 10-year-period, at least 86 children died in the company's care, while just 13 investigations were carried out to look into the cause of those deaths. Roughly 1,600 kids in foster care die each year because of neglect and abuse. MENTOR alone has a 42 percent higher death rate than the national average of foster care systems; 70 percent of the kids who died did so "unexpectedly" in MENTOR's care.
Guns are not going to help better any of these stats. Instead, they bring further dangers to an at-risk population.
Weakening safe storage laws is correlated strongly with a higher number of accidental gun deaths. Almost 90 percent of guns used in youth suicides or unintentional shootings among children are acquired from the home or from relatives. The risk of suicide and youth shootings increases when guns are loaded or unlocked or not safely stored. When firearms are left unloaded and locked, the number of people who die by suicide in those homes decreases. Children ages 5 to 14 in the United States are 11 times more likely to be killed with a gun. About half of gun deaths befall people who are under 25. Guns in homes are also strongly correlated with instances of domestic violence, something many foster kids have already witnessed in their biological homes and continue to experience in foster care, as well.
Making sure guns are easier to access for foster kids and their foster parents could include the risk of suicide or increase the risk of foster care abuse turning deadly. When so many foster care deaths are not investigated, this is a problem. There's no reason to not abide by basic safe storage laws. When guns are safely stored in homes with children, fewer children die. And when foster care kids experience rates of abuse at higher rates than the general population of American kids, putting guns in their home will just make their home life more unstable and dangerous.
The state of Texas did defy the NRA in one small sense: They quietly added $1 million in the state budget to promote education about safe storage of firearms. Increasing education on storage while loosening laws enforcing is misguided and confused. Worse, it puts kids in harm's way.
This article was originally published on