How To Earn Money Online As A Stay At Home Dad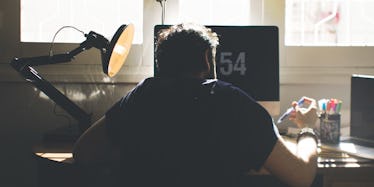 If you've chosen the life of a stay-at-home dad, congratulations! You've accepted one of the most difficult full-time jobs in the world. The work is messy, stinky and stressful. Plus, your new little co-worker can be a real piece of work. Finally, when it comes to the pay, it totally sucks. Mostly because there is none.
READ MORE: The Fatherly Guide to Stay-At-Home Parenting
However, that doesn't mean you need to stop earning. With a little imagination and skill, you can bring in the extra scratch during nap times. Here are some ideas.
Sell Your Stuff
Chances are that you probably have some things in your hacienda that you don't need. Remember that old adage: One man's junk cluttering up his garage is another man's treasure that his wife will consider junk cluttering up the garage.
Consider using sites like Ebay for items that have a targeted market. For instance, people who like early 90s Playboys. Or vintage shot glass collectors. Beyond that, hit up sites that specialize in turning over specific items:
Bookscouter: Turn over your old textbooks or just books in general. This site helps you find the best price for your old tomes.
ThreadUp: An online consignment store. Your new job uniform is cargo shorts and your least stained shirt. Turn that old power suit into dolla dolla bills.
Declutter: Sell old tech, as well as games and CDs, which are those shiny round discs that humans once used to play music.
Etsy: If you are handy with making tchotchkes, jewelry, art, or furniture, you can set up an Etsy shop and sell to an incredibly trusting and adventurous community.
Sell Your Skills
There are plenty of places out in the world that are happy to help you sell your marketable skills. After all, there's something kind of awesome about freelancing if you think about it. Mostly because it makes you think of jousting.
One of the biggest sites to find freelance work is UpWork. They have categories for everyone from creatives to accountants. But that's just one of very many sites where you can pimp your skills and earn a little extra dough.
Sell Your Time
Some gigs sit solidly in the are-you-sure-it's-not-a-scam category. But you'd be surprised at some of the crap you can do just by sitting in front of your computer for under an hour.
For instance, if you feel like you don't get enough jury duty, you can always get paid to be on a virtual jury for lawyers who want to test out their case. If that's not really your thing, you can also get paid a nominal fee for listening to and critiquing new, unsigned bands. Or, you can watch advertising or be a member of a focus group.
These gigs don't really take any true skills. But they do take time. If you can carve some out of your day, it's worth a shot.
In the end, while the urge to keep earning is strong, remember that the work you are doing with your kid is valuable in its own right. And yeah, you might not be getting paid but you're giving your family something worth way more than money: clean laundry.
This article was originally published on