Discussing His Son Adonis, Drake is a Role Model for Single, Divorced Dads
In a heartfelt conversation with LeBron James on 'The Shop', Drake revealed his rules for being an involved single father after starting his family in the messiest way possible.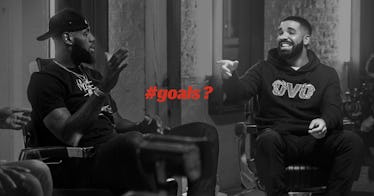 HBO
On the second episode of LeBron James' HBO talk-show The Shop, Drake stopped by and opened up, for the first time, about being a single father. He painted a very different image than the one put forward by Pusha T on the diss track Story of Adidon, which portrayed Drake as uninvolved with his "secret" child. Speaking about being outed as a dad and his relationship with his son's mother, former adult actress Sophie Brussaux, Drake offered some real insight. And while his comments seemed designed to help him save some face, the Canadian rapper coughed up some hard-won truths and some super smart advice for single co-parents. Turns out that Drake, of all people, is #parentinggoals.
Drake hadn't acknowledged his fatherhood publicly until the release of his album Scorpion in June. That's not a particularly good look considering his son, Adonis, was born in October of 2017. During his conversation with LeBron on The Shop, Drake explained why in frank terms: His path to parenthood was messy. He wasn't in a relationship with the pornstar he got pregnant.
"Of course, as life takes shape and teaches you your own lessons, I end up in this situation where I don't have the fairytale," he said.
So it goes. There are roughly three million single dads in America who also don't have the fairytale so Drake is far from alone. And, like Drake, many of those dads might have dicey relationships with their ex. After all, it's hard to get along with anyone, much less co-parent. Drake knows this from personal experience. His own parents struggled to find find peace with each other. But the resentments that defined much of his childhood also gave him an interesting perspective on his situation as an adult. It made him want to be a partner with Brussaux.
"I do want to be able to explain to my son what happened," he said. "But I don't have any desire for him to not love his mother. I don't ever want the world to be angry at his mother. We have found ourselves in a situation and we are both equally responsible and now, like, I'm just really excited to be a great father."
Regardless of how he came to fatherhood — the fling, the sniping with the mother of his child, the tabloid ugliness and rap feud that revealed his parenthood — Drake has found an admirable parenting ethos: Be a team.
And that's what makes him a role model for many single dads. The fact is that kids need to have a good positive relationship with both of their parents, regardless of whether those parents are together or not. Kids need to know that parents are going to act as a united front in their best interest and have their back. Drake gets it.
Adonis is actually one of the lucky ones. And it's not just because his dad is crazy rich and can take him to "Uncle Bronnys" house to work on his jump shot (although that's nice). He's lucky because his dad is willing to spend emotional currency in order to ensure an environment of civility, respect, and consistency. Drake understands what is hard about co-parenting and he's publicly talking to the talk about doing it right. Of course, the hardest thing is to keep doing it right consistently — and even when things go wrong — but starting from the right mentality is key.
Drake seems to be in the right headspace. Even the fans mocking him for his uninspired approach to rap feuds should get onboard with his approach to being a dad. Love first. Everything else second.
This article was originally published on