The 50 Best Places to Work For New Dads 2018: Dow Jones & Company
Our list of 50 Best Places to Work For New Dads in 2018 recognizes companies with exceptional paternity leave and benefits programs.
by Fatherly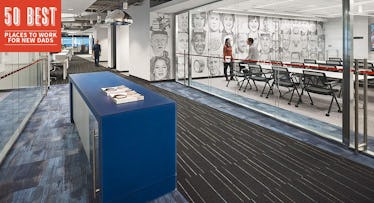 Dow Jones & Company
Fatherly's annual "50 Best Places to Work for New Dads" ranking is a celebration of corporations committed to helping men manage their dual roles as providers and caregivers. Though only one company can be ranked number one, every company featured has provided real support for working parents with exceptional and thoughtful offerings.
Dow Jones & Company
Rank: 49
2017 Rank: N/AFull-time employees: 2,819Median Salary: N/A
One of the oldest names in the financial information industry, Dow Jones & Company is a global provider of business information and the publisher of The Wall Street Journal, Barron's and MarketWatch. Owned by News Corp, Dow Jones & Company, Dow Jones offers 20 weeks of paid parental leave to primary caregivers and three weeks of paid leave to secondary caregivers.
Though the paid leave offering is not spectacular for dads (give the "secondary" caveat), Dow Jones makes this list because of its childcare offerings. They also provide an employee assistance program that offers help and advice to new and expecting parents, up to 20 days of backup childcare services a year, membership to Sitter City, and preferred enrollment at Bright Horizons centers. The company's Returnship program, which was launched in 2017, helps those who have been away from a job for two years due to a health or family emergency re-enter the workforce.
Fatherly's 2018 rankings are based on a scoring metric inclusive of data related to company policies on the following issues: paid parent leave, ramp-back time, flextime, onsite childcare, childcare subsidies, backup childcare, number of sick days, support groups, fertility aid, adoption aid, student loan assistance, education funding, bereavement leave, elder care planning. Length of paid leave, onsite childcare, and ramp-back time were the most heavily weighted ranking factors.