Two People Swipe Right on Bumble. Now What?
A newly divorced dad turns to Bumble for a fresh start. Profile complete, he now looks forward to the date. But first, how do you get to the plans?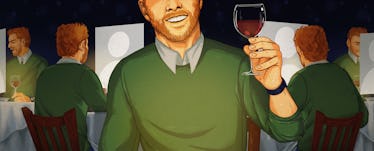 Alycea Tinoyan for Fatherly
The following was produced in partnership with dating and networking app Bumble, a safe place for anyone (divorced dads included!) to look for a fresh start.
Profile complete. Photos verified. Submitted. Now what? This digital me floats into the darkness of the internet like a sky lantern full of wishes. Now there is me-me; the me watching a fly buzzing around the kitchen and wondering what the ancillary damage will be if I try to smash it with a dish towel (a lot); and the Bumble me, his bio projecting, hopefully, just the right amount of vulnerability and confidence to entice the hand (attached to the heart attached to the eyes attached to the phone) to swipe up, up, up past pictures of me sad on a unicorn to those of me happy in Italy, and swipe right.
On Bumble, unlike other dating apps, the woman makes the first move, so there is little for me to do but swipe and wait. As I tentatively reenter the world of dating, this offers the chance to respond, a dynamic with which I'm much more comfortable. Also, while it is true that I cannot formally approach other users, I can make my feelings known. So into the hive I go. As a recently divorced man, one who was married long before apps meant anything more than what one eats before entrees, the procession of smiling faces is a bit baffling. Like a dumb-dumb, I am surprised at just how many people there are on this thing looking for love, or LTRs, as I now know love is called. They, like me, have found the six photographs that best represented themselves; they, like me, have answered questions like "Beach or mountains…." and how their third-grade teacher described them; they, like me, live in Brooklyn, giving me what is called fellow-feeling. If I were younger, I think I would scroll through these images not mindlessly but as though looking through a one-way mirror. Now, older and maybe just a little bit softened by wisdom, I see not only these women but that these women, like me, are putting themselves out there.
That's all well and good but one doesn't move through Bumble without swiping. And the question becomes: What must the criteria be met for me to swipe right? Rather helpfully in the Settings section, many of these parameters had been set: I'm interested, for the moment, in women, or those who identify as women. I do not want to date someone half my age or really even three-quarters of my age. My own father left my mother for an eighteen-year-old and, as he has grown older, his paramours hardly do. That is a gross part of my family history I'm not keen to repeat. Also, you gotta be within six miles of me. I'm not looking for a long-distance relationship so most of Manhattan, all of the Bronx, and even the northerly reaches of Queens are too far away.
As for physical attraction, well, that's a difficult one. One, to talk about what attracts me physically seems weirdly personal and shallow. It is, I suppose, by definition superficial and at the same time, I'm not here on Bumble BFF or Bumble Bizz. I'm on Bumble Date. So it's important. What I'd much rather discuss is how remarkably revealing just a few words and a few pictures – not the pictures themselves but what the selection of said pictures – can reveal of a person and what my reactions to those pictures say about me. For instance, anyone whose lead picture is taken in a bar or a club I eliminated. I never go out. That would not end well. Anyone who includes a picture of themselves on the deck of a boat similarly didn't make the cut. I have nothing against sailing and have crewed my share of regattas, but to select that photo above others seems to indicate an interest in class-signaling I can't fuss with.
Even with these relatively strict guidelines, I find myself wondering for the first time in a decade, what it would be like to go out to dinner, or to the local karaoke spot, or to brunch surrounded by succulents and have Bloody Marys with the women in these profiles. I swipe right. I swipe right. I do it again. More right than left; more hopeful than not; more happy than lonely.
Then I went about my life, having effectively put myself out there to all with none of the sweat-inducing terror of approaching a random person on the street. A half-hour went by. Then an hour. Then, as I was getting ready to pick up my kids from school, my phone buzzed. Kassandra had liked me. I opened the app. "Hey Joshua, what's inspiring you today?" she asked. I stared at my phone, unsure of what to do and how to respond. One part of me wanted to write, some version of: "My life is a gray-toned Upside Down, a dismal hellscape which inspiration never visits."
That's the sad unicorn version of JDS.
But, I figured, this might be a new leaf to turn and perhaps wry existential angst isn't a turn on. I wrote back the truth but not a dark one: "Necessity…and you?" And then she wrote back that she was watching a Netflix show she particularly likes and I wrote back asking which one and she wrote back the one and then I wrote back that sounds fun and then she wrote back it was and then I wrote back, hey, what's your schedule like? And she wrote back, I'm free on Tuesday and I wrote back I was too and then she said cool and used an emoji of a smile. And, dear reader, we made plans.
This article was originally published on