Looking to Get Wild After a Divorce? Resorts Have You Covered.
Husbands and wives are looking to let loose post divorce. Resorts are listening — and creating "divorce packages" catered specifically for post-split partying.
by Carrie Weisman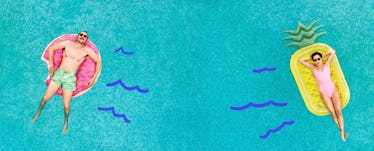 Stationed among the many resorts located in Cancun's "hotel zone" is a place called Temptation. It's a colorful mountain of a hotel, with more than 430 rooms and suites. One-hundred-and-nine of those are located what's known as "The Tower." It's sometimes advertised a "playground" for grown-ups, and the title fits for a few different reasons. You have to be 21 or older to stay there, for starters. It contains a few topless-friendly areas, as well. They even host weddings at the property. And, in a somewhat morbid twist of irony, they also have a package ready for if that union dissolves. You see, Temptation is also a vacation destination where divorcees come to get wild.
"I have personally spent a lot of time with guests," says Mario Cruz, the concept and product development manager for Temptation. "You'd be surprised at how many people I meet mention they are there to recover from a divorce or break-up."
It's not too surprising. The United States a global leader in divorce. While the country is losing rank, thanks to millennials marrying later or opting out of marriage in the first place, divorce still happens. And Temptation is there to capitalize.
Cruz has been working with the Original Group, Temptation's parent company, for 16 years. As it's his job to come up with different ways to cater to untapped tourist markets, he wisely realized that one of the main reasons Americans head to Mexico is to sip cocktails and party after a breakup.
Two years ago, Temptation began offering their very own "divorce package." Guests who sign up for it can expect bottle service at bars and restaurants, a private butler to wait on them while at the pool, spa treatments, and breakfast in bed. They can also add the option of adding "strip seduction" experience, which is resort-speak for a 30-minute strip show in their room. The majority of those who sign up for it are from the United States
Temptation isn't the only resort out there offering deals to the recently divorced. Breathless Resort & Spa has an "Untying the Knot" deal, which includes things like spa passes, room upgrades and selected dining experiences. For guests who want something more, they can sign up for the "Trashing the Memory Ceremony," which basically means printing your ex's face on a piñata and taking a bat to it. The Grand Velas hotel in Riviera Maya, Mexico offers its own version as well. It also offers like spa deals and upgraded drink offerings. You can even sign up for a Mayan Purification Ritual during your stay.
Aside from cocktails and special treatment, the real draw for recent divorcees at Temptation largely revolves around what its "playground" allows. The resort offers a host of pool parties, theme nights, and other activities that specifically relate to sex. All are designed to encourage interaction among the guests. And that lends itself to many occasions in which a get-away with friends evolves into something more explicit. "Hook-ups" are a Temptation staple. And not everyone waits to get back to their room before they begin. Public sex is verboten, and engaging in such is in direct violation of hotel policy. Still, it sometimes happens.
"I think there is something empowering in owning a personal situation that is not usually perceived as happy and being able to celebrate it," says Cruz.
The average age of individuals signing up for the Temptation divorce package falls somewhere between 43 and 50. According to Cruz, the offer attracts a fairly similar percentage of both men and women. The resort books between 30 and 40 divorce parties a year.
Of course, not everyone's answer to divorce comes in the form of a swing-up bar and thong bikini. Separating from a spouse is a disruptive event. According to the social readjustment rating scale (SRRS), divorce ranks among one of the most severe life stressors.
"Sometimes getting out of town gives you the ability to reset, reprioritize, and recover," says Dr. Jeff Zimmerman, a clinical psychologist who's been helping couples navigate through divorce for the better part of 30 years. At the same, he worries about the effect a sex-positive party space might have on someone who hasn't taken the time to properly heal from recent split.
"I often suggest to my clients that they wait a period of time before engaging in any kind of romantic or sexual relationship. It gives them time to get back in touch with who they really are, and what's important to them," he says. "It might be fun in the moment, but for some, jumping into new relationships and experiences they are not emotionally prepared for, could end up causing more emotional pain in the long run."
It would also be wise to remember that divorces only run smoothly when spouses are on good terms with one another. Broadcasting the fact that you've turned the situation into an opportunity to party might put a sour note on things. And if there are kids in the mix, things can get even more complicated.
There are other factors to consider, as well. Partial nudity might make some folks uncomfortable. Philanderers can have a hard time respecting boundaries, and unlimited access to booze can make people behave in unpredictable ways.
But what Temptation does offer guests is an opportunity to experience an environment traditionally reserved for those younger than them. It reaffirms the fact opportunities to enjoy ourselves don't expire as we age; that time spent in pursuit of romance, of companionship, of marriage, doesn't undermine a future reserved for different endeavors.
Maybe more significantly, "divorce packages" offer up the idea that separation is not a matter of destiny, but chance; it's no more indicative of failure than marriage is of success. And some may find true value in that message.