What's the Difference Between a Doula and Midwife?
Considering one as an option? Both have their purposes. Here's what you need to know.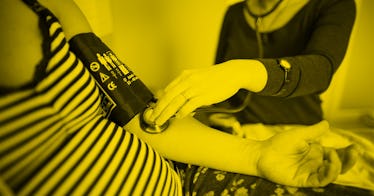 The process of giving birth comes with many, many questions. Do you want an epidural? Who will be present for the delivery? Are there decent food options outside the hospital? Another you might ask, depending on the nature of your birth plan: Do we need a midwife or a doula? And speaking of which, what is the difference between a doula and midwife, anyway? How does a doula help during delivery? How does a midwife?
Doulas and midwives serve quite different purposes during delivery — and have different levels of training. The difference between a doula and a midwife can actually, at times, be quite stark, although they both work to help you have a better, healthier birth experience. One manages a mother's energy, and ensures she's focused only on her birth. The other is all about actually delivery. The doula and the midwife each have their own specific usefulness, as well as their own set of considerations about cost. The breadth of information can be, at times, quite overwhelming.
So what should you know? Here, with assistance from Dr. Kecia Gaither, a MD, MPH, FACOG and Director of Perinatal Services and Maternal Fetal Medicine, NYC Health+Hospitals, at Lincoln Medical and Mental Health Center in the Bronx, New York City, is what to know about the difference between a doula and midwife.
Okay. So, What's the Difference Between a Doula And a Midwife?
Midwives are medically certified professionals with masters degrees in midwifery and a license through the American Midwifery Certification Board, who lead certification standards in midwifery and is the national certifying body for midwives. They are recognized as health practitioners in some states but not others. Regardless, their certification is national, meaning that if a midwife can practice in one state that recognizes them, they can practice in the others.
There are several different types of midwives: Certified-nurse midwives (CNMS), Certified Midwives, and Certified Professional Midwives. Certified-nurse midwives are registered nurses that also got an accredited education in midwifery, can practice in all 50 states, and passed a national exam. Certified Midwives are non-nurses who can't practice in every state but have a bachelor's degree or higher in a health field and have completed a midwifery education program and the national exam. As for Certified Professional Midwives? These are not nurses, but they have training and clinical experience in childbirth, and have passed a national exam.
Doulas, on the other hand, are hired to provide support in the delivery room, whether that's a hospital or medical center. They are trained professionals who provide physical, emotional, and educational support before and during childbirth. Instead of a master's degree or accredited degree in midwifery, doulas need about seven to 12 hours of childbirth education, 16 hours of birth doula training, and must attend anywhere from two to five births. American doulas are most often certified through Doulas of North America (DONA), one of the largest certification organizations, which also provides training for doulas-to-be.
The fact is that those with low-risk pregnancies who want to give birth at home or a birth center can do so with the help of a midwife alone, and not a doctor; doulas, meanwhile, advocate for and support patients but can't help someone give birth on their own.
Should you have a low-risk pregnancy, hiring a midwife to oversee your prenatal care and subsequent delivery is totally fine, Dr. Gaither notes. But, while Midwives are medically certified, they don't have the medical training to perform operative births or c-sections. Should anything go sideways in a birth, says Gaither, being near a doctor or a physician can make all the difference.
What Services Does a Midwife Provide?
Midwives often operate out of birth centers, and through birth centers, parents can access a whole suite of holistic care services. Midwives, who help women with low-risk pregnancies through labor, delivery and after birth — they can deliver the babies at birthing centers or at home, and hospitals. They can also provide family planning, preconception care, perform prenatal exams, assist with a diet and exercise plans, offer information about your pregnancy, childbirth and how to care for your newborn, help deliver your baby, and provide referrals to doctors should you require outside help.
What Services Does a Doula Provide?
The word doula is a Greek word that literally means "women's servant." True to that name, a doula helps provide emotional and physical support to moms who are expecting, about to give birth, or have given birth. The relationship between a doula and a new mom most often starts well before it's time to give birth. Doulas often serve as advisors to new moms, reachable by phone or appointment to help explain complicated medical language. During delivery, they can provide massages, relaxation techniques, and guide the mom through different positions in labor. Postpartum doulas can also help moms transition into being mothers, offering counsel on their physical and hormonal changes, as well as educate moms on what to expect with their new babies.
Can a Doula Deliver a Baby? Can a Midwife?
A doula can not deliver a baby. They cannot replace the role of a doctor or a midwife or a nurse. However, they do provide emotional and informational support for laboring moms.
Midwives, however, can deliver babies, but they can't provide c-sections or other surgery-adjacent procedures in the birthing process. Many midwives operate out of birthing centers, where they are the primary care providers. Others do work in hospitals alongside OBGYNs.
Are Doulas Healthcare Practitioners?
No. Doulas are patient advocates, not medical professionals. They offer a valuable support system in the delivery room. That being said, they don't have the training to deliver a baby by themselves or made your medical decisions for you. What they can do is educate you on what might happen in the delivery room and ensure that your birth goes as close to how you wanted it to as possible. They'll go get the ice chips, they'll carry vomit bags, and they'll help you breathe in the delivery room. They often educate themselves on the chain of command in your hospital, and that can come in handy. For example, if you're upset by how many medical interns are walking in and out of your delivery room, your doula can talk to your nurse or nurse manager to ensure that the room has as little traffic as possible.
"A doula is a coach. Nothing more than a coach," says Dr. Gaither. "They are there to offer support — nothing more."
That doesn't mean they're any less valuable than a midwife. Should you have a low-risk pregnancy, be a single parent, or a teenager, Dr. Gaither stresses, doulas are excellent to have in the room to advocate to doctors about needs, explain what's happening, and provide emotional support. But that's true even for parents not having low-risk pregnancies or if a spouse is in the room.
Are Doulas Covered by Insurance? Are Midwives?
As midwives are medically trained professionals, they are often covered by insurance. But with doulas, it can be a gamble. Parents often shoulder out-of-pocket costs to hire their doula for what they see as an essential service.
While there is, of course, always fine print, midwives are covered through the Affordable Care Act and private insurers, but only if you give birth in a birthing center or at a hospital — not if you're doing a home birth. Doulas, on the other hand, even though they really help moms, are largely not covered by insurance, despite the fact that one study found that moms with doulas were four times less likely to have a low birth weight baby, two times less likely to experience birth complications, and far more likely to initiate breastfeeding.
But still, insurance companies often won't reimburse parents who hire a doula and won't say up front if they will or won't cover the doula in the first place, so parents can be stuck with surprise billing. Doing your financial research — and being prepared to cover any costs should you want to hire a doula — is deeply important.
How Much Does a Doula Cost? How Much Does a Midwife Cost?
Per above, midwives are covered by most insurance plans. That being said, while a midwife usually costs about $2,000, most of those fees end up being covered through insurance. The fees associated with midwives usually cover prenatal visits, the act of giving birth itself, and postnatal care.
Doulas cost anywhere from $150 to almost $3,000, a pay that's usually commensurate with the doula's experience, whether or not the doula is through a private practice, and whether or not they accept a payment plan or sliding scale services. Since doulas are not covered by insurance, these costs are usually paid for out of pocket.
Can We Use Both a Doula and a Midwife?
Sure. Dr. Gaither stresses that many parents don't have to choose just one or the other. They can, while an expensive proposition, have both a doula and a midwife in their hospital room alongside their OBGYN, Dr. Gaither says.
"I've worked with patients doing both of those, and it's fine," she says. "If something goes ugly, you can always run down the hall and do whatever needs to be done. I think both of them are great."