The 50 Best Places to Work For New Dads 2018: Deloitte
Our list of 50 Best Places to Work For New Dads in 2018 recognizes companies with exceptional paternity leave and benefits programs.
by Fatherly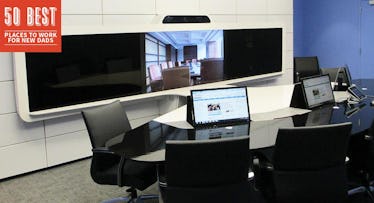 Deloitte
Fatherly's annual "50 Best Places to Work for New Dads" ranking is a celebration of corporations committed to helping men manage their dual roles as providers and caregivers. Though only one company can be ranked number one, every company featured has provided real support for working parents with exceptional and thoughtful offerings.
Deloitte
Rank: 9
2017 Rank: 10Full-Time Employees: 55,608
With U.S. headquarters in New York City, Deloitte is biggest of the so-called "Big Four" accounting service firms with some 55,608 full-time employees. Since the introduction of their extended family leave program in 2016, the entirety of their sizable workforce has been eligible for an industry-leading 16 weeks of paid parental leave.
The perks don't stop there. While the company does not have onsite care, they offer emergency back-up dependent care, which can be used when you need to be at work and your regular child or adult/elder care is unavailable. Care is available through more than 2,000 centers and a network of in-home caregivers. Other benefits include up to $25,000 for infertility services, as well as a separate $15,000 lifetime maximum for infertility prescriptions. Adoption and Surrogacy Reimbursement Program (up to $25,000 per child).
Still, the heart of Deloitte's program is the open and generous paid leave policy, which has profoundly helped numerous employees. "As a gay man that anticipates growing a family through adoption, I am sincerely grateful to have the opportunity to have significant paid time off to bond with my child," an employee recently wrote in a note to the company CEO Punit Renjen, a father himself.
Fatherly's 2018 rankings are based on a scoring metric inclusive of data related to company policies on the following issues: paid parent leave, ramp-back time, flextime, onsite childcare, childcare subsidies, backup childcare, number of sick days, support groups, fertility aid, adoption aid, student loan assistance, education funding, bereavement leave, elder care planning. Length of paid leave, onsite childcare, and ramp-back time were the most heavily weighted ranking factors.