Boy Scout is Kicked Out of Den After Questioning Politician on Gun Control
The 11-year-old wondered why the State Senator supported allowing domestic abusers to have access to guns.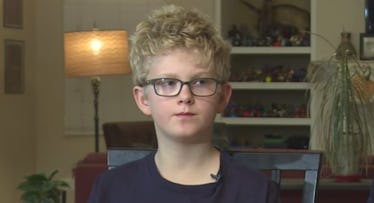 Ames Mayfield / 9News Denver
After questioning a State Senator about her support of domestic abusers still being allowed access to guns, an 11-year-old Cub Scout has been forced out of his den.
The New York Times reports that Cub Scout Ames Mayfield was asked to leave his Boy Scout group after an event on October 9 in Bromfield, when he asked Colorado State Sen. Vicki Marble (R) to answer for her extreme stance on gun control, along with calling out past statements she made about the health of black people in America.
"I was shocked that you co-sponsored a bill to allow domestic violence offenders to continue to own a gun," Mayfield said to Marble in a nearly two-minute long question about her controversial stance where he also asked, "Why on earth would you want somebody who beats their wife to have access to a gun?"
Despite the fact that domestic violence is a major cause of death for women, especially those who ware married, Marble defended her position by explaining that "the more guns a society has, the less crime or murders are committed."
Undeterred from her response, Mayfield continued asking her questions from a list he had prepared. The young man also criticized her for comments she made back in 2013, where she stated that the disproportionate health problems and poverty experienced by black people in America are related to their eating habits. Marble, who was visibly annoyed by the questions from Mayfield, denied making the comments, despite clear evidence that she did.
After the event, Marble reportedly spoke with the leader of Mayfield's den and the 11-year-old was subsequently told that he was no longer welcome in the group. According to The Chicago Tribune, Mayfield's mother says the den told her that it was because her son shouldn't have phrased his questions in such a disrespectful manner. She said the boys were given no parameters before the meeting and was proud of her son for asking such pointed questions.
She added that he son has a great interest in politics and the Tribune added that "the fifth grader was so troubled by recent events that he ran for student council and executive council treasurer at his school. He won both elections, voted in by his peers." Ames also mentioned that her son was the top-fundraiser of his pack "taking in $2,750 in just two weeks to pay for his dues and all of his activities for the rest of his time in Cub Scouts."
The Boy Scouts of America worked with the Mayfield family and Ames is now in a new den."The Boy Scouts of America and the Denver Area Council are pleased that the family will continue their participation in Scouting," a statement said.
This article was originally published on