How Sex Retreats Are Helping Couples Spice Up Their Sex Lives
Hosted by sex therapists, the retreats are designed to help couples overcome relationship issues, improve their romantic lives — and even hone their orgasms.
by Carrie Weisman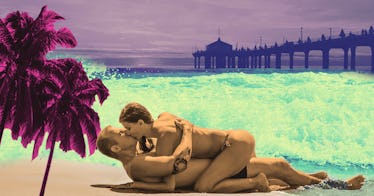 Vacations are made for sex — and hotels are getting in on the action. Why else would the Virgin Hotels in Chicago put "intimacy kits" in their minibars? For $20, horny couples can nab two condoms, lube, and a vibrator without having to leave their room. Toronto's Drake Hotel gets in on the action too, offering an entire Pleasure Menu, on which you can find bondage tape, butt plugs, and more. Bellhops are no longer just bringing up bags and meals – they're also helping spice up guest's sex life.
Sex sells. And the hoteliers know it. But now, more and more services are cropping up that take the sex-centric vacation to new heights. Hosted by sex therapists, these sex retreats — part intimacy workshop, part hedonistic vacation — take guests to exotic locations and sex resorts but are designed to help couples overcome relationship issues and improve their romantic lives. Some sex retreats in the United States even help them hone their orgasms.
According to a poll conducted by Travelocity, 56 percent of couples will book a vacation exclusively for the purpose of keeping the spark alive. Marissa Nelson, a Washington, D.C.–based sex therapist, sees this a lot. Couples walk into her office complaining about not getting along, and then they'll book a vacation. They'll say they aren't having enough sex, and then they'll book a vacation. Even those who fear their relationship may be on the brink of collapse will come in one week and cancel the next because they've booked a vacation.
"It seemed like there was this trend among people who were at a crossroads in their relationship," she says. "They would take a trip. And then something happened during that trip. They would either feel more connected or less connected. They would either stay together, or they would find themselves back in therapy."
It's not hard to dissect the success stories mixed into that group. More leisure time means more opportunity to enjoy one another. Getting away from home means getting away from all the everyday stress. And a change of scenery might just spark a welcome change of perspective. As the proverb goes, "All work and no play makes Jack a sexually frustrated guy." Or whatever.
According to a study published in the Journal of Occupational Health, people feel healthier during vacation. After studying individuals from Europe, Israel, and the United States, the authors concluded that, while on vacation, people fall into better moods, feel less tense, and experience higher levels of energy. Unfortunately, that all goes to hell once we get back home. As the study authors note, it only takes a day or two for the vacation high to fade.
"Going away puts you in a different mindset," says Nelson. "When couples go away, they have to be very intentional about it. They know they're going away to have fun, to relax, to have sex."
That's why Nelson started IntimacyMoons, a couples intimacy retreat designed to help individuals reconnect and enhance their relationship.
"I thought, 'What if I could go on vacation with these couples?'" she explained. "I could give them some real tools to better communicate with one another; to help them get to the bottom of these issues. I could help them walk away with some real insight."
The couples retreat, which lasts from Thursday to Sunday, starts with a welcoming reception. "People need to feel comfortable," says Nelson. The cocktail hour she arranges seems to help with that.
The rest of the time revolves around the specific needs of each individual couple. Most mornings are dedicated to workshops; most afternoons are filled with excursions. The evenings are when couples have to do their "homework."
This type of intimacy retreat follows a much larger trend. In its 13th annual Global Spa & Wellness Trends Forecast, Spafinder Wellness 365 announced that a number of spas, retreats, and studios would start pivoting their programming toward sexual literacy and well-being. They were right. Like Nelson, a number of "sexperts" have begun looking to retreats as a new way to conduct business. But while Nelson, a therapist by trade, is often focusing on issues involving communication, libido, parenthood, and infertility during her retreat, others have a more explicit agenda.
Kim Anami is a holistic sex and relationship coach and Tantra instructor. She's also a vaginal weight lifter. Today, she divides her time between Bali and Los Angeles. Twice a year, she hosts a retreat where couples take time to work on their orgasms.
Pamela Madsen started the Back to the Body retreat back in 2012. Like Nelson, she makes herself available for any onsite consultation a client may need. Like Anami, she's thrown her focus behind orgasm, in particular. Unlike either of them, she's designed her retreat so that only women are invited to attend.
While her decision may prove unpopular among men who want to get in on the action, it makes sense, from a data standpoint: Per Nelson, women are the ones driving the majority of traffic to IntimacyMoons.
"They're usually the ones that reach out," she explains. When it comes to taking active steps to improve their sex lives, women appear far more likely to make moves.
"Because of the messages men receive around being vulnerable, they don't always feel safe asking for help," says Nelson. "One of the things I want men to know is that they're really strong for wanting to improve their relationship, however they go about doing that."
Nelson sees a lot of business types in her practice. They typically arrive with mixed feelings about the process. Often, she'll ask them, "If something was going on with the company, would you get an advisor to help correct it?" she says. "Well, think of me as a consultant. I'm there to help repair the relationship."
That seems to get them on board. Of course, the trip to Barbados and the prospect of better sex doesn't hurt either.
This article was originally published on