9 Nonprofits Fighting Coronavirus: Organizations That Need Donations
Here are a few ways to help others during the coronavirus pandemic.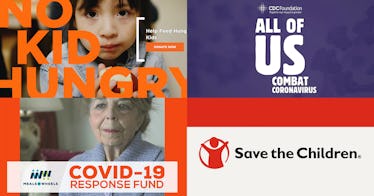 The coronavirus pandemic has already had an extreme effect on millions of Americans. Entire industries have shut down. Thousands of jobs have been lost. Vulnerable populations — the elderly, those below the poverty line, and children — have been most severely affected. If you're able to help, one of the best ways is to donate to charities that help provide food to the hungry, send medical equipment and teams of nurses to the front lines, or just to the CDC. Here are nine coronavirus charities to donate to, some of whom have donation matches or have set up direct Coronavirus funds to help those most in need.
No Kid Hungry works to eliminate child hunger in the United States. Now that nearly 75 percent of all schools in the United States are closed for the indefinite future, No Kid Hungry estimates that kids out of school will miss 40,000,000 meals that they might not have access to outside of school. The organization is working to fill that gap while schools remain closed.
Feeding America works to provide children and families food through their own network of foodbanks. Food banks will be considerably strained in the United States as the unemployment rate is expected to rise up to 20 percent and as many struggle to feed their kids. Every dollar sent to Feeding America provides 10 meals to families and children.
Good+, a foundation that has been running for nearly 20 years, provides direct goods and services to low-income parents and caregivers. It also works with 75 other anti-poverty programs across the country. Right now, they are suspending all other services to respond directly and only to the national Coronavirus crisis.
World Central Kitchen/#Chefs For America
The World Central Kitchen, the charity of Chef Jose Andres, has already been on the front lines in Japan and California to help deliver meals to people currently quarantined. Right now, the World Central Kitchen is mapping feeding efforts across the country to figure out who is most at need, delivering meals, and starting community kitchens in heavily affected communities
Save the Children is a global nonprofit that helps provide health care and education for the most vulnerable populations in the world. They are often on the front lines of emergency response initiatives in times of health crises, work with governments to create policy that helps kids, and help put in place disaster and preparedness programs all over the world. Eighty-seven percent of their funding goes directly into the programs they provide for American kids.
The Centers for Disease Control is obviously on the front lines of the coronavirus epidemic. Donations help them fund tests, ventilators, and hospital beds across the country so that, should the epidemic worsen, hospitals have more bandwidth to deal with the crisis. For the next 24 hours, Lysol has agreed to match all donations — with more than $4.6 million raised so far.
Center for Disaster Philanthropy
The Center for Disaster Philanthropy provides funds in the midst of disasters to countries and people in need. The CDP has an allotted Coronavirus response fund that will focus on supporting non-profit organizations that are working in areas with a high number of confirmed cases and vulnerable populations. The CDP will support organizations that support hourly wage earners, like those who are working in grocery stores right now, people in the gig economy, older adults, and basically any community that would be more adversely affected by the economic and physical effects of a pandemic.
Seniors are one of the most vulnerable populations in a pandemic. As such, it's crucial to support existing non-profits, like Meals on Wheels, which in regular times delivers meals to needy seniors but which will be overloaded in the pandemic situation as seniors cannot leave their homes. Cash donations will help feed those who can't feed themselves at a time like this.
Americares sends out medical supplies, has an emergency team of ER doctors that go right to the front lines of natural disasters or, in the case of the current situation, to the front lines of communities that might be especially affected by COVID-19. They help countries in the aftermath of these disasters for months and years, as well, as the COVID-19 pandemic might be a long lasting issue that requires more than a short term response. Every dollar given can provide nearly $20 in aid.
This article was originally published on