Senator Corey Booker Wants to Close the Wealth Gap By Giving Every Newborn a Trust Fund. Could It Work?
Senator Cory Booker wants to give your babies money.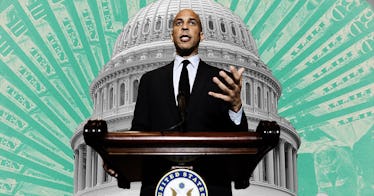 GETTY; Fatherly Illustration
Senator Cory Booker has a plan to decrease the wealth gap, and it's a rather radical one. It's called the "American Opportunity Accounts (AOA) Bill," and what it proposes essentially operates as publicly-funded 401K accounts, opened for every single newborn in the United States. When a child is born, the federal government would open an AOA for them, pop about $1,000 into it, and then every year, depending on the family's income level, put anywhere from zero to $2,000 per year in the low-risk account. These newborns wouldn't be able to access their growing wealth until they are at least 18 years old, and the funds are available for education funding, home ownership, or asset-building such as retirement savings.
The goal of these proposed accounts is to ameliorate the increasingly stark wealth inequality that has plagued the United States. According to the Urban Institute, the wealthiest Americans have 12 times the assets of middle-income families. This is not so much an accident as it is a matter of public policy and a decades-long practice of paying African Americans less than white Americans, and providing them loans that have higher-interest. It's also in no small part because of an effort of the Federal Housing Authority and private banks working hand in hand to refuse to underwrite housing loans to black American families, making, among other things, the accumulation of generational wealth increasingly difficult for families of color.
That's not to say that Senator Booker's proposed bill will only help African-American kids and families. The wealth inequality problem is massive, regardless of race. The bill, which aims to provide kids with more resources, could change that problem. At least that's how Booker is positioning it. To shed some light on the AOA, we spoke with Dr. Sandy Darity, a professor at the Duke Sanford School of Public Policy and an acclaimed economist. He worked on a similar policy proposal from which Booker's AOA bill will heavily borrow and thinks that while Booker's bill is important legislation, it could go further to help American kids.
What, exactly, is the American Opportunity Accounts Bill, which will be introduced by Senator Cory Booker?
Darrick Hamilton at the New School and I have developed this idea that's been labeled the "Baby Bonds" proposal. It's not really a bond. It's the provision of a trust fund to every newborn infant, that would be publicly funded. It would be accessible to the young person at a young adult's age. There's been some consideration that 18, 21, 23, or 25 could all be good ages. Wealthier families provide their children with trust accounts. Every child should have a trust account. That's particularly important in a climate where we have such drastic and increasing wealth inequality. So this is seen as an alternative to other ways of trying to mitigate wealth inequality — and it's seen as an alternative that directly attacks wealth inequality. The Booker bill, I think, is inspired by that idea.
When you say that this public trust fund account, which could in some cases give kids as much as $50,000 in an account dedicated to education, home-buying, or asset building, is an alternative to other solutions that purport to decrease wealth inequality, what's it an alternative to?
The standard reflexive action that most people have to any kind of economic inequality is that we need to invest in education. There is more emphasis on changing the young person rather than changing the young's persons resources. The premise of the AOA Bill or Baby Bonds is that we don't have to alter the behavior of individuals. We have to alter the resources that enable them to change their behavior.
As far as education solutions specifically, those solutions certainly don't work if we're thinking about racial wealth inequality. Black heads of households with a college degree have two-thirds of the net worth of white heads of households who have never finished high school.
The proposed AOA Bill operates on a sliding scale. Depending on a family's income, the government puts yearly contributions into the accounts, with more money going to those with less income and less money going to those who do. Is that an appropriate way to tackle the issue?
For the Baby Bonds proposal, our initial idea was that the amount of money put into the account yearly would be graduated based upon the family's level of wealth, or net worth. That was part and parcel of the initial construction of the Baby Bonds premise.
It's a little bit different in the AOA Bill. That bill looks at income in the family and they make an adjustment to the amount that goes to each young person based on an annual examination of the family's income level. They do not look at the family's wealth level — which is what we prefer.
Why is wealth a better indicator of how much money a kid should get, and why do you prefer it?
Well, Booker chose to valuate on income because it's more difficult to estimate the wealth level than it is the income level. Income level can be determined directly from tax returns. But wealth, which is the difference between the value of what we own and what we owe, is more difficult to determine. We don't have a generalized wealth tax in America. People don't report their wealth on an annual basis. They only report on the income that they have received from their assets, or the income they have lost because of their debts. But they don't report on the total value.
So it sounds like, for the AOA Bill, determining how much money kids get via income was largely a matter of practicality, if implementing this policy at scale.
It is a matter of practicality. But in this case, it works at the disadvantage of black households. The connection between levels of income and levels of wealth in black households is much weaker than the relationship in white households. Higher income black households may actually have very low levels of wealth.
How would the AOA Bill be funded? Would there be additional taxes on the wealthy? Budget appropriations? Diverting existing revenue?
Well, it's not very expensive. In the United States, typically, there are about 4 million newborns in a given year. The bill won't give them their funds until they are young adults. If we registered these accounts for young people at their birth, let's just assume that all 4 million of the newborns born this year are alive at that point.
I think the upper balance on the AOA accounts is probably about 50,000 dollars. Let's say the mean of the amount of money in all of these accounts is 25,000 dollars. The total budget in a year for providing that amount would be 100 billion dollars. That's less than three percent of the current national budget. So, it's not a very expensive program. You just fund it out of general revenues. In addition, you don't have to make the first payouts until young people are 18 to 21 years of age. You could build up a national trust fund to support this program by making annual entries of 100 billion dollars into the fund.
Can parents put their own money into these low-risk, publicly funded-trust accounts alongside the annual deposits the federal government would make?
No. We do not want these accounts to be influenced by funds that family members or parents put into it. It is not a savings or matching funds account. If wealthier parents want to set up separate accounts for their kids, fine. But the public funds that are provided should be predicated on the family's resources and not directly affected by the family's resources.
And the bill is purported to help kids of color the most — just based on the numbers and by design, given the fact that the average black household makes 61 percent of the average white household per year.
Racial wealth inequality is immense. But that's not to dismiss the degree of wealth inequality that exists across the overall population. Wealth inequality is not a race-specific problem, although the degree of racial inequality in wealth is greater than the degree of inequality in general in wealth.
Why do you think parents and politicians should support this bill?
In the strict sense, we're investing in young adults. We're giving every young adult an endowment. Even though they know that this will be available to them upon young adulthood, they don't get the money as small children. Sometimes, we refer to this as an aspect of trying to extend Social Security across the life cycle. It's not a social security payment. It's an endowment that should facilitate a young person's opportunities when they reach their first adult years.
This article was originally published on