Remember When We Thought Conor McGregor Was A Good Guy Because He Was a Dad?
Fathers, like anyone, can be redeemed; but fatherhood does not offer immediate redemption.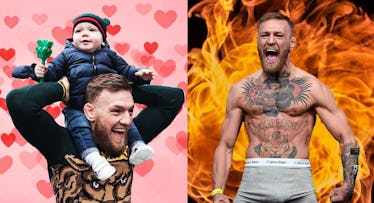 Instagram/thenotoriusmma; Getty
Like every other red-blooded American male who plans to stream UFC 223 for free this weekend on Periscope while trying to ignore the comments like "Hearts are gay!" (Dudes, quit it. Also: you can also turn off the hearts.), I recently watched and rewatched a clip on TMZ Sports in which Conor McGregor, compatriots in tow, attacks a bus full of fighters at Barclay's Center. One might think the idea of a man attacking a bus belongs to the same genre as cats versus cucumbers — that is, The Treasury of Ridiculous Spectacles.
And this, surely, was that. However, it was also a spectacle with real consequence. The first is that the two bouts on the undercard, Michael Chiesa and Ray Borg, were scratched after McGregor's assault left the fighters badly cut up; the second is that McGregor's friend Artem Lobov, who participated in the attack, was also removed from the line-up. (Later Max Holloway was declared unfit to fight, thus also throwing the main card into turmoil.) A tertiary consequence is that I remembered that brief moment last May ago when McGregor first became a dad — to a son, of course named Conor Jr. — and thought he was okay.
You'll remember the event mostly because it was the first — and perhaps the only — time McGregor seemed mildly not-terrible. He posted photo after photo of himself with an infant. It seemed to absolve him of something. He's continued to do so since Jr. entered the world. Now, I'm not saying anyone thought the man was a saint when he shared images of himself being totes adorbs with his baby, but, at least for a little while there, it seemed like something that might temper the fine fighting specimen-slash-loutish-racist-otherwise known as Conor McGregor. It was almost as if the fact that Conor The Dad negated the fact that in nearly every other arena — other than of course the Octagon in which he is admittedly supreme — Conor the man is a giant d-bag.
Now, I'm in no way impugning Sr.'s love for Jr. and certainly not seeking to punish the son for the sins of his father. Conor Jr. is a very adorable child. I think his dad is whatever the opposite of cat's pajamas are — a dog's tuxedo? — but I still like every single post of him because, OMG OMG OMG those cheeks! But, what the scary incident of the bus in the night time reminds us is that assholes have kids and then they are just assholes with kids, not some sort of redeemed cuddly wuddly.
It is the complicated, gutting, but also, in some way, hopeful truth that men are like ice cube trays. By that I mean there are compartments within even the worst of us where true love glows. The love a father feels for his child is one of the most ennobling purifying experiences he'll ever have (or that I ever had). It is proof that within us is the capacity to love completely. But that doesn't mean the compartments don't exist and that doesn't mean that love redeems all other sins. Fathers, like anyone, can be redeemed; but fatherhood does not offer immediate redemption.
There are many lessons to be learned from McGregor's continued shitheadedness which reached its peak this year with the brazen assault. But one of them is this: bad men can love and though that love is good the men who feel it aren't necessarily. Also, don't throw things at busses.