7 Money Saving Tips for Good Gift Givers Trying to Avoid Credit Card Debt
In this edition of "Bank of Dad," our columnist offers tips for creating a holiday budget that you won't ignore.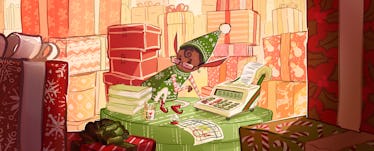 Geo Barnett for Fatherly
I always overspend around the holidays. Do you have any advice starting and sticking to a holiday budget — one that's actually manageable? There are always sneaky expenses. Some people tell me to set cash aside and stick to that but the cards always end up coming out. — Craig L., New Haven, CT
Whether it's pulling out that horrific holiday sweater or digging into the fruitcake your mom mailed you, the holiday season is when we tend to let go of our better judgment in the name of good cheer. Just don't let that care-free spirit drastically change your shopping habits or you could wind up starting the new year on poor financial footing.
Here are a few tips on how to avoid overspending during the holidays while keeping things merry and bright.
1. Make a List, Check it Frequently
The holidays are when shopping becomes an all-consuming activity for a lot of folks. It's easy to start loading up on gifts for every friend and family member you can think of. Instead of making decisions on a whim, which can get expensive fast, create a budget and stick to it. "Start making your lists now and decide ahead of time, not when your shopping cart is full, how much you intend to spend on each person," says Carrie Friedberg, who operates SF Money Coach in Palo Alto, California. "Then, add it all up and make sure you can afford it and feel comfortable with the numbers."
"Bank of Dad" is a weekly column which seeks to answer questions about how to manage money when you have a family. Want to ask about college savings accounts, reverse mortgages, or student loan debt? Submit a question to Bankofdad@fatherly.com. Want advice on what stocks are safe bets? We recommend subscribing to The Motley Fool or talking to a broker. If you get any great ideas, speak up. We'd love to know.
2. Negotiate With Your Loved Ones
"Talk to your spouse, siblings, and co-workers and agree on a ballpark price range for exchanging gifts with you," says Friedberg. "Pro-active communication is essential if you want to save money and avoid financial regret and remorse."
You may even find that some of your loved ones are as happy to ditch the requisite gift-exchanging as much as you are. Agreeing to visit each other or get together for a yuletide cocktail is likely cheaper and more meaningful.
3. Pick a Card (Wisely)
"The biggest pitfall during the holiday season is credit card use," says Friedberg. "This can lead to a major financial hangover in the new year when the bills are due."
Tuck your credit cards in a drawer before you hit the mall. Making all your purchases with cash or a debit card is a great way to increase awareness about how much you're spending. That said, credit card spending is also a way to get rewards and airline points so if you're the sort of person that effectively leverages those perks, you should stick to the typical plastic. Just check your balance… constantly.
4. Start Shopping Immediately
Guys aren't exactly known for their proactive tendencies when it comes to holiday shopping. In fact, there's a certain adrenaline rush when you know you have to shop for five people on Christmas Eve. Maybe you've been there. That said, putting things off isn't a great recipe for finding great deals. The sooner you start working on your list, the more time you have to research prices. Now that a lot of retailers are offering markdowns in November, holiday shoppers are strongly incentivized to get after it early. (This is also a good stress management technique.)
5. Be Smart With Gift Cards
There's a reason gift cards are the go-to present for a lot of shoppers – they're guaranteed pleasers and require the least amount of thought. But because there's a dollar amount attached to the gift, we tend to spend more money than we otherwise would. Instead, think of a more personalized gift that may not cost as much and will a more lasting impression on the recipient.
If you do go the gift card route, make sure to read the fine print before you buy. Some of the more versatile options on the market, including the Visa and American Express gift cards, come with pesky fees that can eat away at your budget.
6. Research Holiday Sales.
Black Friday is still the biggest shopping day of the year for American retailers, who love to tout their deals on everything from stereo equipment to toasters. This year, an estimated 154 million shoppers will hit stores over the Thanksgiving weekend, according to the National Retail Federation.
But not all sales are created equal. Your best holiday deals are likely to come on items like small appliances and "smart" home devices, Wirecutter deals editor Adam Burakowski recently told The New York Times. For larger appliances, like TVs, you can often find the same pricing at other times of the year.
Your best bet is to go online and note the everyday price for items you're looking to buy. When the Black Friday and Cyber Monday deals roll around, you can compare and see if the savings are really that good.
7. Try A No-Spend Day
Don't let the winter shopping mania be all-consuming. It won't help your mental health – nor your wallet, for that matter. Friedberg suggests designating certain days to unwind. "Give yourself a break from never ending to-do lists, holiday shopping, social obligations and busy-ness in general," she says. "You deserve it and it's free."