The Next Government Stimulus Needs to Bail Out the Child Care Industry
If it doesn't happen, parents and the economy as a whole, will suffer greatly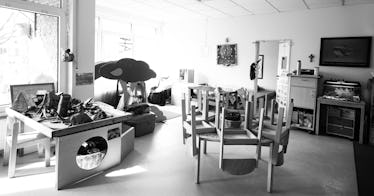 The child care industry is in big trouble. Even before the pandemic, America's system for funding early childhood education wasn't so much a singular, centralized funding mechanism as much as it was a patchwork of cash, all of it inadequate. And the Covid-19 pandemic has all but shuttered an already strapped-for-cash industry that underpaid workers and was hobbled by administrative and operating costs.
According to The Hill, in the week before the pandemic, some 12 million kids under age five were in some sort of paid child care arrangement. That meant that about 5 million families paid someone to care for their kids during the day. About one million of those kids come from low income families that receive subsidized child care from the Child Care Development Block Grant. This number, of course, doesn't include the many millions of kids in traditional school arrangements (those aged six or older) or who are in paid after-school programs.
The point is, a lot of American families depend on paid child care. And as states start to press — prematurely, inarguably — to re-open their economies and urge non-essential businesses like restaurants, stores, and beauty salons to open, the question of how the child care industry will respond, or if it will even be able to, is an essential one. But in both the short and long term, the childcare industry needs to be bailed out. If it doesn't happen, parents and the economy as a whole, will suffer greatly.
"It's important to understand that our child care system before the pandemic was a very fragile system," says Aaron Loewenberg, a policy analyst with the Education Policy program at New America and a member of the Early & Elementary Education team. "Even in normal economic times, most child care providers are small businesses that operate on slim margins and earn meager profits. Then, this pandemic hits."
Some 60 percent of child care centers across the country are closed right now. The care centers that receive government funding at least are subsidized, while those that rely on tuition are forced to ask parents to pay them some form of tuition for their children to keep their spots. But even that might not be enough.
One report suggests that at least half won't re-open after the pandemic blows over. This could have enormous effects on the economy as well as the ability for millions to return to work. Local governments fear this. Experts suggest, for instance, that up to one-third of child care centers in North Carolina won't be able to re-open; Florida expects to see more than half remain closed. And even those that have remained open throughout the pandemic are struggling. Some have limited class sizes to keep up with social distancing measures and rules about limited capacity of businesses. Others, however, are packed full, straining teachers and educators. In many states that have endeavored to re-open their economies this week or in the coming weeks, parents still don't have access to child care options, putting them in an unworkable bind.
"In Texas, for example, they've started expecting employees to go into work. At the same time, child care is still being limited to essential front line employees," Loewenberg points out. "Parents are forced to make some tough decisions."
Those decisions aren't simple. Parents are wondering if they can return to work, how they can find care for their children, or if they can afford to not work because they can't find care at all. If half of child care centers do remain closed, there won't be enough space for children who need care. Fewer parents will be able to go back to work. The economy will continue to suffer.
If child care centers are closed when Americans return to work post-pandemic, this will lead parents to make decisions that might not be in the best interest of their children. Unregulated child care options, unlicensed nannies, and babysitters might become the norm. Some parents won't be able to work at all. If parents stay home, that means a massive sector of the workforce can't be recovered. That's not even mentioning the workers who staff the child care centers themselves.
However, the pandemic simply revealed what was already happening. "Even before the pandemic, we saw pretty substantial declines in the number of child care providers," says Lowenberg. "We were already seeing fewer and fewer providers, especially home-based providers." The silver lining — if there is any — might be that politicians could see just how crucial child care is as a part of the country's economic infrastructure.
Senators Elizabeth Warren and Tina Smith have recognized that problem. They joined forces to release a $50 billion plan to shore up the child care system that is set to be released in the next coronavirus relief package. According to Loewenberg, there are three major ways that funding would help the child care industry in both the short and long term. While he notes that the CARES Act that passed a month ago added $3.5 billion into the system, that's not nearly enough to help an already faltering system when 30 percent of child care centers won't be able to re-open if they're out of business for as little as three weeks. A Center for Law and Social Policy (CLASP) report recently found that the child care industry would need as much as $9.3 billion per month to survive the pandemic financially. The Warren-Smith plan recognizes that and puts the funding to good use.
The good news is that the plan, per Lowenberg, focuses not just on the short term but also on the long. In the immediate sense, it provides funding for child care programs that are open for essential workers and have been keeping their class sizes down, which stretches providers thin as fewer students per class costs more money. The second part of the bill provides funding to keep currently closed providers financially afloat and helps educators stay on the payroll. The third part of the bill would start to provide funding to address some of the problems that had the child care industry already on its knees: While the bill is certainly ambitious, there may tbe political will to flood the industry with even more cash, after 84 House members called for $100 billion to shore up the industry.
"We have only two options as a country: we can either do what is needed to stabilize the child care system, or we can watch child care providers collapse, one by one in our communities, leaving families with fewer options and hamstringing our economic recovery," Warren and Smith wrote in the press release about the plan. "We are prepared to fight in Congress to save this system from collapse and strengthen it for the challenges ahead."
It's a necessary fight for many reasons. Without a functioning child care system after social distancing measures begin to ease, the economy will stall out as a massive part of the workforce won't be able to return to the office. It also avoids the dangerous contingency plans parents who can't afford to not work will rely on if these centers remain closed. Unless we bail out — and then, over the long term, majorly invest in the child care industry — the economy's recovery will be dead on arrival. Once it happens, no amount of budgetary CPR can fix that.