Chance The Rapper Donates $1 Million To Help Underfunded Chicago Public Schools
The donation comes at a critical time for Chicago schools.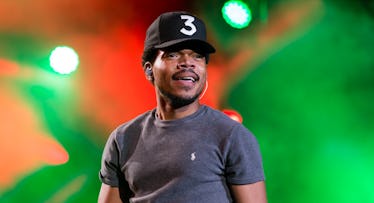 If you are familiar with Chance the Rapper, you know that the Grammy-winning artist has serious love for his hometown of Chicago. As his own career has taken off with the success of his groundbreaking album Coloring Book, Chance has made a point of using his newfound influence to give back to the Windy City. On Monday, he put his money where his mouth is and announced he will donate $1 million to the Chicago Public School Foundation.
Chance made the announcement at a press conference at Wescott Elementary School, where he declared, "Our kids should not be held hostage because of political positioning." The statement comes on the heels of a series of meetings between Chance and Illinois Governor Bruce Rauner, which Chance described as "vague" and "unsuccessful." While Chance has a history of philanthropy in his hometown, notably helping raise over $60,000 for Chicago's homeless in 2015, he's never done anything of this magnitude.
And his donation couldn't have come at a more critical time, as it was recently announced that due to a lack of funds, Chicago Public Schools may be forced to end school on June 1 instead of June 20. To encourage others to give as well, Chance has stated that for every $100,000 donated to public schools, his nonprofit SocialWork will give an additional $10,000.
Unsurprisingly, the rapper's incredible generosity has been praised by many in the city, including Michelle Obama. The former First Lady showed her appreciation by tweeting, "Thanks @chancetherapper for giving back to the Chicago community, which gave us so much. You are an example of the power of arts education."
[h/t] ABC Chicago
This article was originally published on