The 50 Best Places to Work For New Dads 2018: CA Technologies
Our list of 50 Best Places to Work For New Dads in 2018 recognizes companies with exceptional paternity leave and benefits programs.
by Fatherly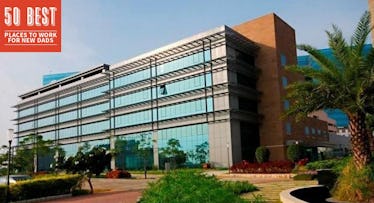 CA Technologies
Fatherly's annual "50 Best Places to Work for New Dads" ranking is a celebration of corporations committed to helping men manage their dual roles as providers and caregivers. Though only one company can be ranked number one, every company featured has provided real support for working parents with exceptional and thoughtful offerings.
CA Technologies
Rank: 15
2017 Rank: 14Number of Employees: 5,675
Manhattan-based CA Technologies creates business-to-business software for prominent clients (think: Fortune 500) and government organizations. The majority of the company's American employees – CA maintains 40 offices in the United States alone – work as full-time software engineers. These workers now find themselves benefiting from perks common in Silicon Valley and startups, including 12 weeks of paid parental leave. CA Technologies expanded that offering at beginning 2017, doubling the time offered from six weeks to 12 weeks.
Along with a number of other benefits for new parents, including adoption assistance and a phase back to work program, CA Technologies offers nine days of sick leave that employees are free to use to take care of their spouse or domestic partner, child, parent, grandchild, grandparent, or sibling, as well as the same for their spouse's relatives.
Fatherly's 2018 rankings are based on a scoring metric inclusive of data related to company policies on the following issues: paid parent leave, ramp-back time, flextime, onsite childcare, childcare subsidies, backup childcare, number of sick days, support groups, fertility aid, adoption aid, student loan assistance, education funding, bereavement leave, elder care planning. Length of paid leave, onsite childcare, and ramp-back time were the most heavily weighted ranking factors.