Why the Perfect Gift For Your Wife Is an Hour to Herself
Because the best kind of gift is one that gives someone the freedom to feel like themselves for a little while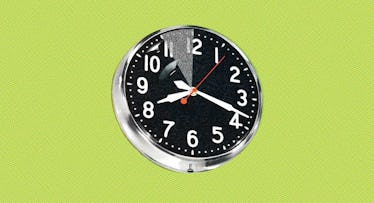 In recent conversation in a group text chain I have with some of my college friends, we started laying into my buddy Chris. Really letting him have it for a good ten minutes — each speech bubble bloop a new joke at his expense. What did he do to earn our venom? Well, in between the stupid .gifs and "remember when"-ing that make up our standard conversation, the subject of gifts for spouses came up. And Chris mentioned that for her most recent birthday, he bought her wife a gift card. A gift card.
"She's your wife, not your 10-year-old cousin who still exclusively shops at Best Buy" read one text.
"A gift card? Do you not like her anymore?" read another. Another: "Was it to purchase a new husband?"
On and on the ribbing went until Chris finally sent back a simple retort: you guys are idiots. This is undeniable. But Chris is, too, because he opened himself up to the salvo because he didn't provide context. As he later told us, he didn't just buy his wife a gift card to, say, DSW or Macy's; he purchased her one for two months of baking classes he knew she always wanted to take but would never get herself.
It was a good gift: thoughtful, yes, but it also furthers their relationship. You see, Chris and his wife have a four-month-old daughter and his wife is a stay-at-home mom and rarely ever does anything for herself. So his gift to her was not a card, but eight straight Saturdays of time away from family to do something she loved.
"She was talking about it, yeah," Chris tells me. "But I really wanted to get her something that could make her feel like a regular person."
And there it is. Whether you purchase something or simply encourage your partner to seek out some them-time, gifting your partner an hour or two is important. The gesture not only allows them relax and feel like a human again, but it also demonstrates that you understand when they're stretched thin and need the break they'd never give themselves. As a bonus, it shows that you're able to handle things without them, which, after a while, will lead to peace of mind.
There's an art to giving an hour. Unlike that sex position you saw online and want to try, it shouldn't be reserved for birthdays or special occasions. In fact, it's better when it's just-because. As for the activity it, could be a fitness class or a spa treatment; a surprise brunch with one of her friends; a ticket to a movie she would rather watch alone (or, again, with a friend); a class she wanted to take. All of these things have one thing in common: they kick your spouse out of the house. Not only does it let them relax and get away for a while, it also shows them that you recognize that they need to feel that way.
Chris' wife really loved her baking class. And while she was learning how to make country breads and almond biscuits that would make Paul Hollywood's chest hair curl, he was able to secure some one-on-one bonding time with his daughter — a rare occurrence for his schedule. At first, he said his wife was a bit hesitant to leave her. But, she gave in. And after a few weeks of returning class and finding things fine, he says, she was a bit calmer and more reassured.
So, every now and then, it pays to gift your partner an hour. Don't think about it as money on a card; think about it as forced time to not be mom or dad but to be the other person they need to be, the person who bakes or relaxes or sees movies or has tea with a friend. Because the best kind of gift is one that gives someone the freedom to feel like themselves for a little while
This article was originally published on